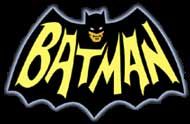 The 60s BATMAN TV Series Coming to Home Video!
Posted by: Bill "Jett" Ramey (Follow @BATMANONFILM)
January 15, 2014

Finally dammit!
Just got an email from the fine folks at Warner Bros. confirming that the entire 60s BATMAN TV series is coming to home video! Check this out...
"Warner Bros. Home Entertainment will distribute the long-awaited 'BATMAN' live-action television series (1966-68) as a complete box set later in 2014.
Conan O'Brien broke the news earlier...
Hell YES!

"Jett" c. 1969
Sorry y'all, I've been waiting for this since I was 4 years old...or maybe since TV shows have been being released on home video. Look, it's not "My Batman," but it's what made me a Batman fan in the first place. Heck, just look at the picture I posted above from my 4th birthday party back in 1969! So, if you love or hate BOF, take your appreciation/anger out on Adam West.



comments powered by