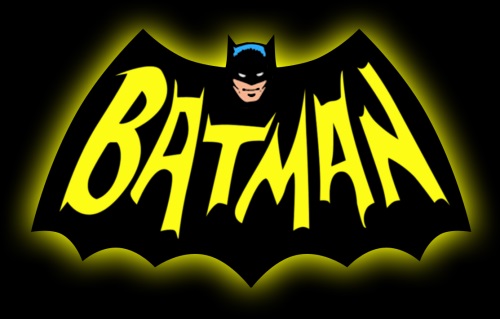 BATMAN: THE COMPLETE TV SERIES LE Box Set Review
Posted by: Bill "Jett" Ramey (Follow @BATMANONFILM)
November 13, 2014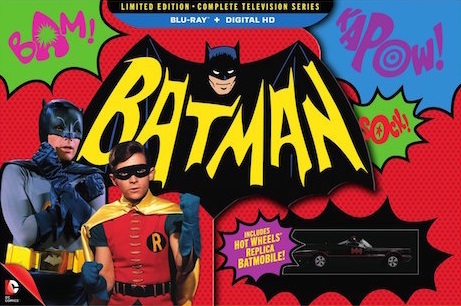 Over the last 16 and a half years of running BOF, I've said – many times – that it was the 1960's BATMAN TV series starring Adam West that turned me into a Batman fan.
I was born in October of 1965 – a few months before the series premiered in 1966 – so I don't really remember it during its original run on ABC. However, since BATMAN went into syndication almost immediately after it ended in '68, I clearly remember coming home from school in the afternoon and watching it via reruns.
I became such a big fan of Batman and BATMAN – which of course my young mind believed it was a dead serious – that my Mom made me a homemade Bat-costume for my 4th birthday in 1969. My Mom even took me to meet Burt Ward – who sported his full Robin regalia – at a Woolco department store in Beaumont, Texas.

The author at age 4, c. 1969
And yes, I met him and got an autographed picture wearing my Batman uniform.
As the years went by and a "grew up," I turned my Back on my original Batman. Batman was dark and serious, not light and silly. By the time I read THE DARK KNIGHT RETURNS in 1986 and watch BATMAN on the big screen in 1989, I was of the mind that the Adam West TV series never existed.
Arrogance and ignorance.
So when I really grew up and dove into the history of this character, I could not ignore the importance and impact that this brief moment in the history of The Dark Knight had on popular culture…
And ME, obviously.
Last week, I received a copy of BATMAN: THE COMPLETE TELEVISION SERIES LIMITED EDITION BOX SET from Warner Bros. Home Entertainment for "reviewing purposes." While I've yet to get through all the episodes and extras – that's currently a work in progress – I can give you all my first impression.
I must say that I was as excited as the 8 year old version of myself watching BATMAN when first opened up the box. The set is actually very beautiful. It's bright and rather colorful, which visually represents the show and what it was about quite well. My giddiness escalated when I found a button on the side of the box that plays the 60s BATMAN theme song when pushed! Check this out…
Included was a miniature Hot Wheels version of the show's Batmobile, a package of old-style BATMAN bubblegum cards, an episode guide, Adam West's "Series Scrapbook," and of course, the Blu-rays divided by season.
I know that this set is rather pricey. Currently the Blu-ray set is going for $174.99 and the DVD version is $134.99 on Amazon.com
. Since I got my set free (full disclosure), I have a hard time telling someone to spend that kind of money. However, I really, Really, REALLY do believe that this is a total must-have for the die-hard Batman fan. In fact, I'd say it's one of the best things "Batman" that's been made available to fans in a while – especially since folks have been clamoring for it for YEARS. Oh yeah, if you get it, DEFINITELY get the Blu-ray version as it looks absolutely spectacular – especially Cesar Romero's mustache!
Currently, "Team BOF" – Robert Reineke, Sean Gerber, Ryan Hoss, Mark Hughes, John Bierly and yours truly – are working together to review every single episode of the series. Since BATMAN was "serialized" and presented as a two-part story on two different nights (Wednesdays and Thursdays), BOF's reviews will include both parts. For example, Robert Reineke (and the rest of will do the same) took the first 2 episodes of BATMAN - "Hi Diddle Riddle/Smack in the Middle" featuring Frank Gorshin's Riddler – into one review. Of course 120 two-part episodes equals 60 reviews, so look for a weekly review of BATMAN for the next year!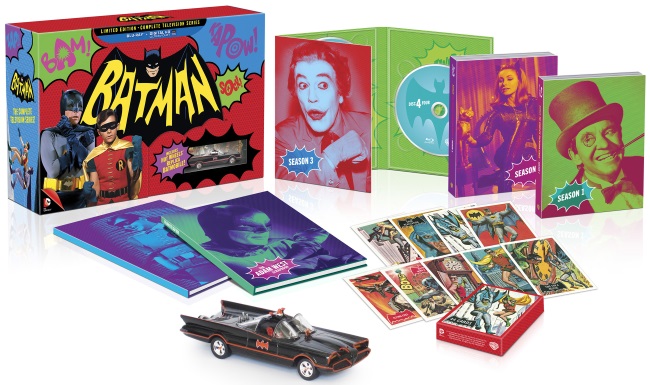 Even though "My Batman" ended up being "dark and serious" (I cut my comic book Bat-teeth on the comics of the 70s, and Nolan's "Dark Knight Trilogy" is "My Batman"), there will ALWAYS be a VERY SPECIAL place in my heart for the "Adam West Batman."
Frankly, I shudder at the thought of not having Batman in my life as he (I can't call him "it" or "the character") has meant more to me personally than I can type into words here on BOF. As someone who grew up without a dad and was raised by a single Mom, Batman – as crazy as this may sound – was a big brother, father figure and a role model for me.
Thus, Adam West is my "Batman Daddy." (CLICK HERE to read more of my "Batman Story.")
Whether or not any of you all buy this set in any of its available forms, I do hope that you come to understand and appreciate how important BATMAN is to the history of The Dark Knight. - Bill "Jett" Ramey
A life-long Batman fan, Bill "Jett" Ramey
is the founder of BATMAN-ON-FILM.COM.
He likes Elvis, Rock-N-Roll,
The University of Texas, cold beer,
Dallas Cowboys Football, and of course...
THE BATMAN!
He resides in the GREAT state of TEXAS with his lovely wife, three kids, and two Boston Terriers.


comments powered by