BOF's Batman in 2016 Retrospective, Part 3
AUTHOR: Bill "Jett" Ramey (Follow @BATMANONFILM)
DATE:

December 21, 2016


Boy, what a year it's been for our, um, boy Batman!

So, let's look bat – err – back at Batman in 2016 in film, comics, TV, and games.
PART 3: BOF & THANKS!
Well, it's the end of another year, and I'd like to say a few things in regards to BOF in this third Batman in 2016 retrospective.
(FYI: There will be a fourth installment in this series. BOF's Ryan Hoss will talk about Batman in comics over this past year.)
As we discussed on our Batman in 2016 podcast, there's was LOTS of Batman for fans to take in this past year. Some good, and some bad. Regardless, we as Batman fans should be happy and proud that there is so Batman – in many different mediums – available for us to experience.
For BOF and myself, I was privileged to be front and center around what was arguably the biggest Batman event of 2016: Ben Affleck's portrayal of Batman in the film BATMAN v SUPERMAN: DAWN OF JUSTICE. I was able to attend one of the very first press screenings of the movie in Los Angeles and the press event the following day at Warner Bros. Studio in Burbank. Yes, I'm not a big fan of the film (though I did enjoy Ben Affleck as Batman -- except for being an pill-popping, booze-guzzling, killer *wink*), but I still truly appreciate the opportunity to attend these press junkets so I can give BOF'ers the skinny – good or bad – when it comes to Batman on film.

PODCAST: Jett at the BATMAN v SUPERMAN Press Junket
Therefore, I must say thanks to my friends at Warner Bros. (you know who you are) for the BvS invite (and the SUICIDE SQUAD screening/junket in New York as well)! You all might not have liked what I said (and continue to say) about the film, but I know you respect it because I was honest and fair.
2016 marked another cool milestone for BOF was well: It became an adult. Yes, June 1st marked BOF's 18th year in existence! Thanks for all the emails, Tweets, etc. with messages of congrats. What truly surprised me was how many folks have been with me since the very beginning! If you read "JettD60's BATMAN 5 Page," you're likely one of those folks!
Of all the cool Batman stuff in 2016, my personal favorite was the release of the animated film, BATMAN: RETURN OF THE CAPED CRUSADERS. Some fans might say "WTF?!" – especially in a year when Batman appeared in a live-action film – and I'd understand. But for a Batman fan of my vintage, Adam West was my first Batman and 1960s BATMAN television series is why I'm a Batman fan today. I really loved the movie (even with its jab at THE DARK KNIGHT RISES) and there was something just, well, awesome about hearing Adam West "play" Batman again. Plus, this must be the BEST end credits in the history of cinema...
Now, let me thank some folks…
THANKS to all who contributed to BOF this year – some new, and some long-timers. In no particular order, cheers to John Bierly (now the longest-tenured regular contributor to BOF), Robert Reineke (who also has been with me quite a while), Bobby Barrett, Ricky Church, and everyone else who wrote a review, op-ed, or appeared on a podcast in 2016! And to my good friend F.J. DeSanto: I luv ya man! SUPER happy you're OK brother and I'll see you soon!
I especially want to thank these people separately from the group above: Rick Shew, Justin Kowalski and Ryan Hoss. These three individuals – starting with Rick late in 2015 – reinvigorated yours truly in 2016 and helped me regain my passion for my beloved website, BOF. This trio of gentlemen made the BOF podcast awesome and, in my opinion (and yes, I'm biased), one of the very best Batman podcasts on the Net! Frankly, the show is the best it's ever been…EVER. Not only are they great for BOF, but they're all great friends to me personally. Thank y'all from the bottom of my Bat-heart!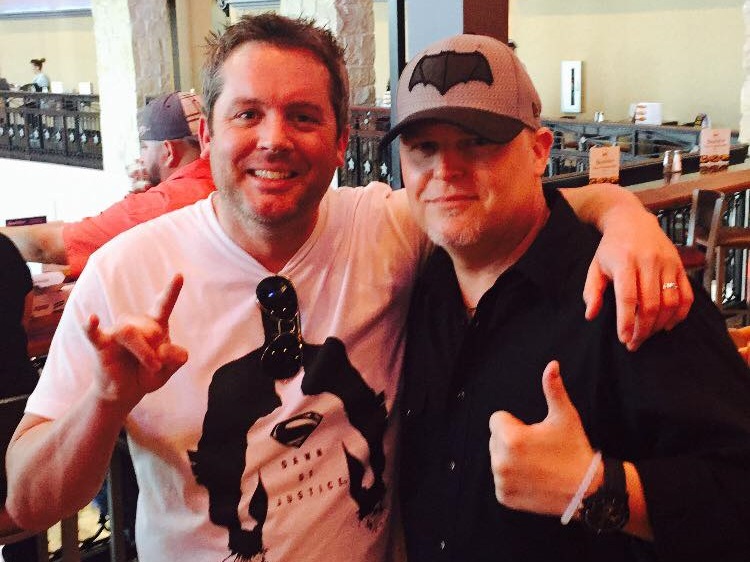 Great times w/Rick Shew at BOF's BvS watch party!
Gotta say this: I'd be remiss in not thanking my wife, "Announcer Rachel." She was the most instrumental personal responsible for keeping BOF going this year and in the foreseeable future as well.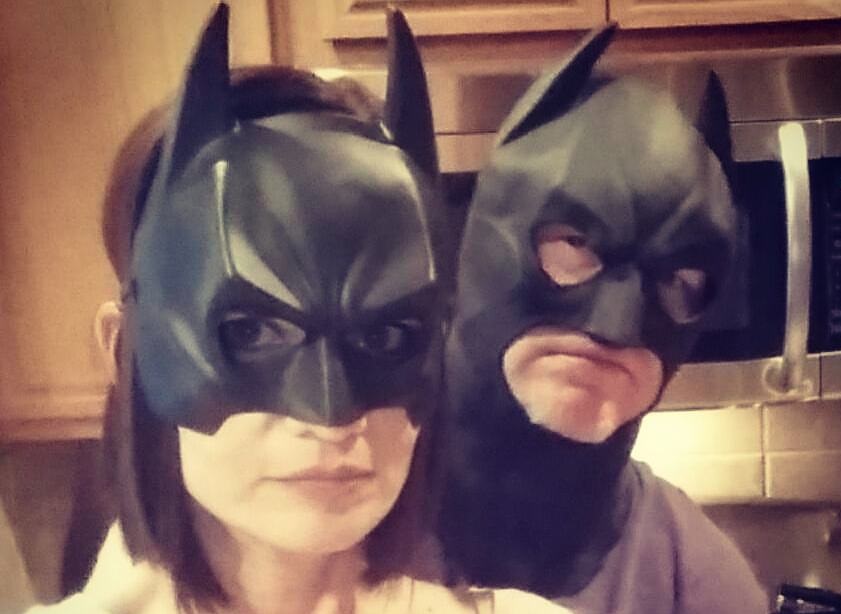 I clearly remember what she said to me when I told her I was going to shut down BOF: "A lot of people count on you and you and will be disappointed. You will also regret it and there will be no going back if you shut BOF down."
She was RIGHT.
And finally, THANKS to all the loyal BOF readers and podcast listener! Without you, there wouldn't be BOF! Well, there probably would be, but no one would be reading and listening. It would be like, "If a tree falls in a forest and no one is around to hear it, does it make a sound?"
So, cheers to Batman in 2016 and here's looking forward to Batman, but BOF in 2016 as well. And thanks for being in the forest! - Bill "Jett" Ramey

comments powered by