Will the Solo Batfleck Batflick be a Prequel?
Posted by: Bill "Jett" Ramey (Follow @BATMANONFILM)
Date: March 3, 2016

From the moment that it was announced that Ben Affleck was the "New Batman", I knew that he was going to direct the first solo Batman film post-THE DARK KNIGHT RISES.
Dont' believe me? Go back and check the BOF ARCHIVES. ANYWAY...
No if's, and's, or buts y'all – it's GOING TO HAPPEN.
If you're a longtime reader of this here website, you know that I've LONG hypothesized/predicted/kinda-sorta knew that Ben Affleck's solo Batman film could totally be set before the events of MAN OF STEEL, BATMAN v SUPERMAN, and both JUSTICE LEAGUE films.
Affleck, who is 43 and will turn 44 this year, could easily play a 30ish/in-his-prime Batman – even if when he's closer to 50 than 30…or 40 for that matter.
And I'm thinking that's exactly what's going to happen. Check this out from the new and excellent (but too spoilerish for my tastes) BvS article/feature from ENTERTAINMENT WEEKLY…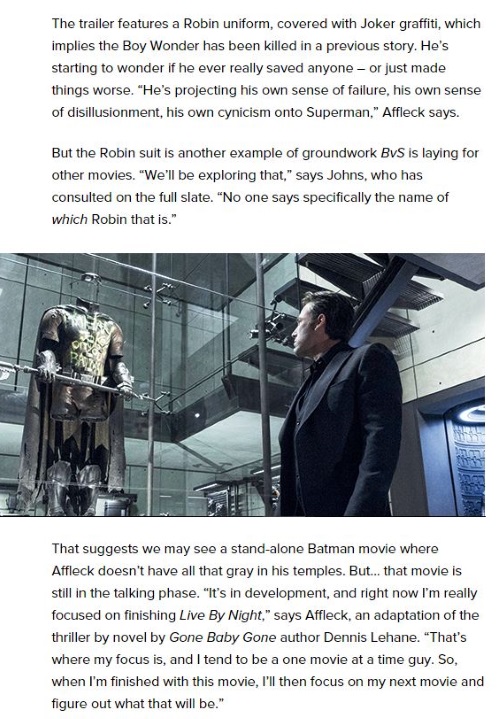 I'll bet a month's pay (in MONOPOLY money, of course, as always), that Ben's solo Batman film (which he'll write and direct) will be a prequel and feature his Batman vs. Jared Leto's Joker – a Joker who's just murdered Robin.
Wanna bet against me?
To read the full BATMAN v SUPERMAN/DCEU article from EW, CLICK HERE! (And I also called no Green Lantern in BvS or either JUSTICE LEAGUE film. *wink*)

comments powered by