REVIEW: THE DARK KNIGHT RETURNS: THE LAST CRUSADE
AUTHOR: Bill "Jett" Ramey (Follow @BATMANONFILM)
DATE: June 16, 2016

SYNOPSIS: Before The Dark Knight returned…
The Joker. Poison Ivy. Selina Kyle. And the last Robin.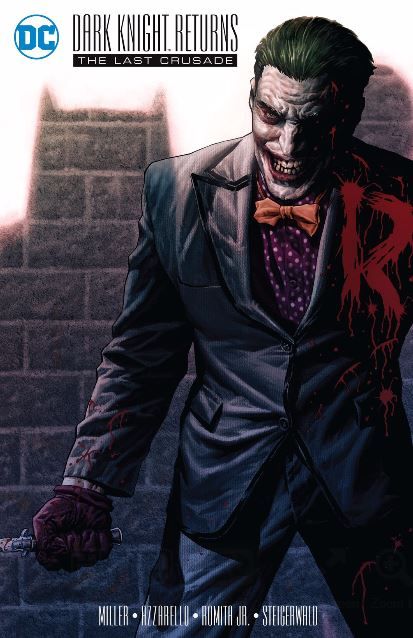 If you're a longtime reader of BOF, you know that Frank Miller's THE DARK KNIGHT RETURNS is one of my favorite Batman stories of all time. Furthermore, you should know that while I didn't care for its immediate sequel – 2001's THE DARK KNIGHT STRIKES AGAIN – I have been thoroughly enjoying the third installment in the series, DARK KNIGHT III: THE MASTER RACE.
As DKIII stands at its midway point, DC has released another prequel (counting ALL-STAR BATMAN AND ROBIN) to the original: a 57 page one shot titled THE DARK KNIGHT RETURNS: THE LAST CRUSADE.
Co-written by the DKIII team of Brian Azzarello and Frank Miller (with art by John Romita, Jr.), this just could be the first story "Dark Knight Universe" story to live up to the legacy of the 1986 original. (I'm excluding DKIII from the discussion as it's yet to come to a conclusion.)
When I first read this story, my initial impression was that it was good, but too long. Then I read it again, and again, and for good measure, AGAIN. I then came to the realization that it isn't too long – it's actually complex and multilayered – and it is not good – it's borderline great.
Taking place about a decade prior to the events of TDKR, we find ourselves caught up in a tale that consists of three parts. In one, we find an older Bruce Wayne who is still in his prime as Batman…but barely. Bruce is self-aware enough to know that his time as Batman is coming to an end and would like to soon hand the mantle of Batman over to his protégé, Jason Todd, the second Robin. Bruce's Bat-succession plan leads to the second part of the story. Although Bruce believes Jason to be a worthy successor, he also realizes that Jason is much more reckless than Bruce ever was. Additionally, Jason lacks one of Bruce's main character attributes: compassion. Jason is, more times than not, cold and remorseless. These traits will end up leading to Bruce's greatest failure…and we all know what THAT is.
Finally, the third part of this story focuses on The Joker and his master plan for what will be his ultimate revenge on Batman. I don't know if there's a version of The Joker that's more sick, twisted and downright evil as the Millerverse version. It was good – in a "love to hate sort of way"…you know what I mean?
Ultimately, THE LAST CRUSADE tells the story of the events that led Bruce Wayne to the life we see him living at the beginning of THE DARK KNIGHT RETURNS.
As far as the artwork by John Romita, Jr., I liked it. While keeping his own style, Romita was able to successfully evoke the spirit of Miller's work on TDKR. Speaking of which, the story also injects newscasts/news commentary by talking heads on Gotham television just like the original. In this case, the topics of discussion are 1) The great team of Batman and Robin taking down The Joker (yet again); and, 2) Why in the hell would Batman subject a child to the danger of fighting crime in Gotham? That second debate is a nod to what some would say is the ridiculousness/danger (if you're coming a "realistic" Batman POV) of Batman having a partner that's a child, as well as what would – and does – happen.
As far as other members of the "Batman Family" (good or bad) that are included, Killer Croc, Poison Ivy, and Selina Kyle – who has long retired Catwoman and begs Bruce to do the same with Batman. I liked this version of Croc – which reminded me a lot of Croc from the graphic novel JOKER; which should be no surprise since JOKER was written by Brian Azzarello. As far as Selina, you SO MUCH want for Bruce to take her advice and, maybe, run off with her and live happily ever after.
HA! Like Bruce Wayne would EVER be allowed to have a happy ending. Pfft!
Oops! ANYWAY…
If you're a fan of Mr. Miller's THE DARK KNIGHT RETURNS (is there anyone who isn't?!), I think you're going to dig THE LAST CRUSADE, so give it a shot.
If you're avoiding it – or THE DARK KNIGHT III (which you shouldn't) – for that matter because you were turned off by THE DARK KNIGHT STRIKES AGAINS and/or ALL-STAR BATMAN AND ROBIN, don't worry, there's none of "that stuff" that can be found in this story. Thanks to Mr. Azzarello...? REGARDLESS...
Who cares, right? I just thought it was awesome. (And a shout out to my friend Lee Bermejo for that awesome cover you see above!) - Bill "Jett" Ramey
GRADE: A
A life-long Batman fan, Bill "Jett" Ramey
is the founder of BATMAN-ON-FILM.COM.
He likes Elvis, Rock-N-Roll,
The University of Texas, cold beer,
Dallas Cowboys Football, and of course...
THE BATMAN!
He resides in the GREAT state of TEXAS with his lovely wife, three kids, and two Boston Terriers.

comments powered by