REVIEW: DARK KNIGHT III #5
AUTHOR: Bill "Jett" Ramey (Follow @BATMANONFILM)
DATE: July 1, 2016

SYNOPSIS: Batman and Robin prepare for war with the Master Race, and an ally returns from an unlikely place…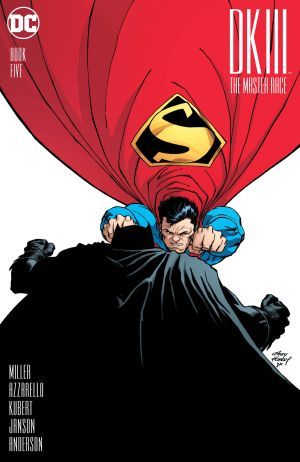 "That's F***ing badass!"
That was the thought that ran through my head when I saw the very last panel of DARK KNIGHT III: THE MASTER RACE #5.
Why? Well, I don't want to spoil it for you – but I will…HERE. DO NOT click on the link if you've yet to read issue #5 and don't want know what made me cuss (in my head...this time) out of excitement!
We know that as of the end of issue #4, Batman has put together a plan to take out that maniac Quar from Kandor and his followers. What exactly that plan entailed, however, had not yet been revealed. In issue #5, we find out not only what Batman's plan is, but we see him and his team begin to implement it (and it's kinda-sorta a nod to how Batman defeated Superman in the original) We also find out…
Why Carrie "Batgirl" Kelly (not a fan of her suit's color scheme by the way) was sent to find Aquaman….
Why Police Commissioner Ellen Yindel decided to team-up with, well, Team Batman…
Why Bruce Wayne needed The Flash's help…
Would the people of Gotham really sell out The Dark Knight? AND…
What became of Superman after he was covered in that black goo and sunk to the bottom of the ocean a couple of issues back.
While it appears that we've reached the climax to the story at this issue's end, there's still three more to go. So, there's bound to be some unexpected cool things still yet to happen. One of those things will likely involve Wonder Woman thanks to Lara's big mouth, and here's betting we're in store for a showdown between Superman's daughter and Batman's protégé, Carrie Kelly.
And that match-up should be F***king badass too! - Bill "Jett" Ramey
GRADE: A
A life-long Batman fan, Bill "Jett" Ramey
is the founder of BATMAN-ON-FILM.COM.
He likes Elvis, Rock-N-Roll,
The University of Texas, cold beer,
Dallas Cowboys Football, and of course...
THE BATMAN!
He resides in the GREAT state of TEXAS with his lovely wife, three kids, and two Boston Terriers.

comments powered by