REVIEW: DARK KNIGHT III #2
Author: Bill "Jett" Ramey (Follow @BATMANONFILM)
Date: December 23, 2015

SYNOPSIS: The unexpected finale to the Dark Knight saga continues as Carrie Kelly gets caught…that is, she finds herself…she gets into-well, you're just going to have to read it yourself.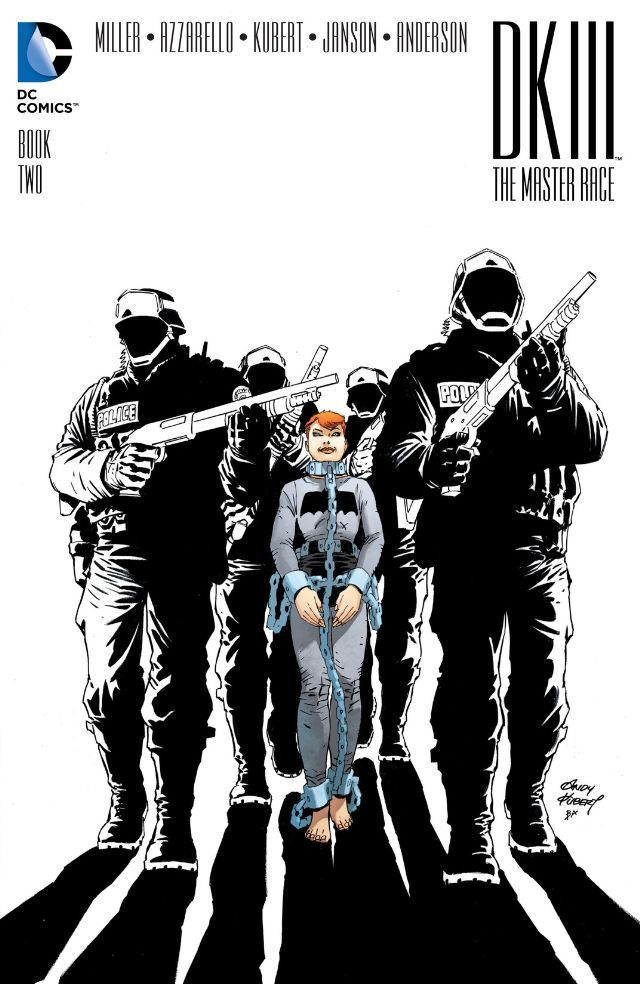 At the end of issue #1 of DARK KNIGHT III: THE MASTER RACE, Batman – Carrie Kelley that is – has been apprehended by Commissioner Yindel and Gotham City police. When asked about the whereabouts of Bruce Wayne, Carrie loudly proclaims, "Bruce Wayne is dead!"
But is he?
That question is answered in issue #2 – and don't worry, I won't spoil it for you. We also learn – or better yet, reminded – why Bruce Wayne took on Carrie as his partner back in THE DARK KNIGHT RETURNS: She's a total badass. And since Bruce Wayne is the ultimate badass, the reason behind the question of "Why Carrie Kelley" (and not Dick Grayson or Jason Todd for that matter) becomes clear as a bell in this issue: She's just like HIM.
Oh yeah, it was great to see the 'ol Bat-Tank from TDKR make an appearance. How and why? You'll see – and love it!
Also in this issue, we learn the origin and the intentions of what's called "The Master Race" in the title. I've got to admit that I was both shocked and pleasantly surprised by this revelation. Again, I'm not going to spoil it for you, but let's just say it involves The Atom and a certain shrunken alien city. I gotta figure this is what will eventually bring a certain Man of Steel out of his self-imposed exile/imprisonment.
All in all, DARK KNIGHT III #2 was a great issue and I'm already looking forward to the next one. As Carrie Kelley says in this issue, "Sometimes, this is too FUN."
Indeed. - Bill "Jett" Ramey
GRADE: A
A life-long Batman fan, Bill "Jett" Ramey
is the founder of BATMAN-ON-FILM.COM.
He likes Elvis, Rock-N-Roll,
The University of Texas, cold beer,
Dallas Cowboys Football, and of course...
THE BATMAN!
He resides in the GREAT state of TEXAS with his lovely wife, three kids, and two Boston Terriers.

comments powered by