REVIEW: ALL-STAR BATMAN #8
AUTHOR: Ryan Lower (Follow @LOWER_RYAN)
DATE: March 17, 2017

SYNOPSIS: "Hats and Bats"! Underestimate the Mad Hatter at your own peril. Batman takes on one of his most dangerous and deranged foes in a mind-bending tale from the powerhouse creative team of writer Scott Snyder and artist Giuseppe Camuncoli!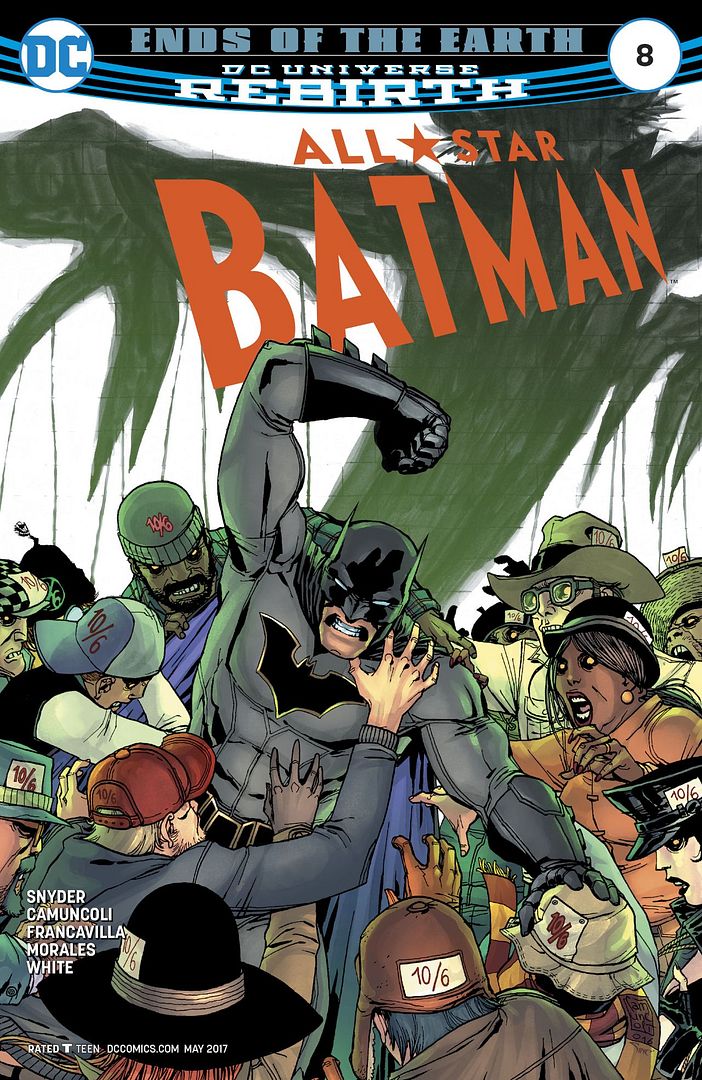 Who would have thought a story with the Mad Hatter would kick All Star-Batman back into must-read material? Nope, that's not a mind trip. The Mad Hatter, aka Jervis Tetch, brought this book back to the awesome storytelling we were introduced to in issues #1-5. Though the past 2 issues were important in serving issue #8, they're not on the level of what's come before it.
"Ends of the Earth" part 3 keeps Batman out of Gotham, and takes him to the Mississippi Delta, following Poison Ivy's cure to a virus Mr. Freeze exposed to the world (see, #6 and #7 are important). Here, we're introduced to a crazy number of ideas: a fake Bat-Family, the Blackhawks, Jervis Tetch knowing Batman's secret identity, and a new use of a flamingo.
Writer Scott Snyder had me involved in this issue from the first page. Batman coming out of the water, with an unexpected delivery of his first-person narration captured my attention. It didn't stop from there either. The way the story shifted from his point of view, to the Hatter's, was just awesome. It unraveled an intriguing link from the past to the present, and unveiled the villain knows the secret identity of the Dark Knight.
Another unique factor in the "Ends of the Earth" story is the revolving door of artists. Giuseppi Camuncoli steps up in a big way this month, drawing perhaps the best looking issue of the entire run. Every page is detailed, colorful, and is distinct in its own style. I loved every panel.
The backup story continues to be All-Star Batman's only downfall. I've never had anything against Duke Thomas, I just felt like he was being forced on us and didn't care too much. In "The Cursed Wheel", we see some of his interaction with other characters from previous stories, and a nice cliffhanger. That's all. However, Francesco Francavilla delivers more beautiful artwork so that's worthy enough of a glance.
Overall, All Star-Batman #8 delivers in every way you'd want it to. The Mad Hatter is a surprisingly effective villain, and delivers in each panel. Snyder has been working toward the "Ends of the Earth" finale next month, and I'm ready for it. - Ryan Lower
GRADE: A-
A lifelong Batman fan, Ryan Lower grew up in the midwest
reading, watching, dreaming of The Dark Knight.
His favorite Batman stories are THE LONG HALLOWEEN, THE DARK KNIGHT
and anything from BATMAN: THE ANIMATED SERIES.
He currently resides in his own Batcave in Chicago.
Follow him on Twitter @LOWER_RYAN.

comments powered by