REVIEW: ALL-STAR BATMAN #7
AUTHOR: Ryan Lower (Follow @LOWER_RYAN)
DATE: February 12, 2017

SYNOPSIS: "Poison Promises"! Step aside, gentlemen-Poison Ivy is about to steal the spotlight in Batman's continuing rogues gallery road trip. Scott Snyder teams up with mega-talent Tula Lotay to reimagine the Dark Knight's most seductive villain.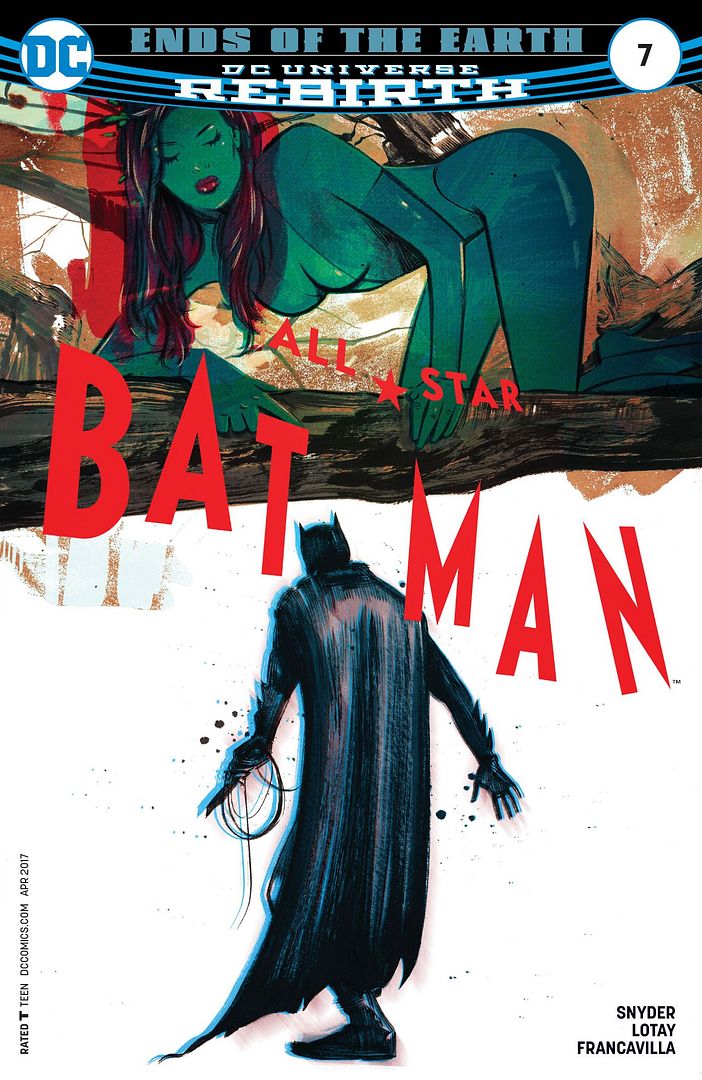 Batman's road trip continues in this month's All-Star Batman #7. Following last issue's trip to the arctic, The Dark Knight heads to the polar opposite Nevada desert, tracking down Poison Ivy. The villain has taken her annual retreat to focus on botany, specifically a very special tree. Debuting a new suit, Batman hunts her down for a heroic reason: she can produce a cure for a virus released by Mr. Freeze last month. Unfortunately,, a cavalry has tracked them down and a fight ensues, ending the life of the tree of…well, life.
I have mixed feelings. This issue seemed slower than last, which was slower than the awesome 5-issue arc before it. Are we on a downward trend, or did we just get too much goodness at the beginning that nothing else will compare? I digress.
All Star-Batman #7 is good, but not great. Scott Snyder continues to deliver original tales, which can be respected by all Batman fans. After a continuous story, he's followed up with two "one-off-ish" tales, including other known members of the rogues gallery. However, I can't shake the feeling of disappointment this month.
Let's start with the negatives. Overall, the book lacked action, which I can get behind if the story is intriguing enough. Ivy makes her annual trip to a shop, talks, heads to the desert, talks, is greeted by Batman, talks, then finally goes roots-to-toes with men with guns. Oh, then talks to Batman. The dialogue gets a little bogged down with too much science talk (we don't need every explanation). The pages seemed to take multiple readings for me to grasp what they were talking about.
Now the positives. There's a lot of dialogue in this issue because it's a character study. Poison Ivy has always been a popular villain in Batman's world, and it's nice to spend some time with her. We see her reasoning, and can't disagree with her. We see her compassion toward a defenseless girl that (supposedly) needs her help. We see how she, like Batman, is only doing what she believes in and finds hope in his "lie" toward the end of the book. Poison Ivy is nearly made a hero in this issue, and that's a real strength.
As for the art by Tula Lotay: it's decent. Following John Romita, Jr. and Jock, Lotay had some big shoes to fill. The art is suiting for the story being told, yet still feels a little bland. While it's just a personal taste, I like detailed art. Here, we get faces without definition, areas of land without much of anything (I know it's a desert), and the pages are just there. No image, aside from the cover, really stuck out in my mind. Again, not bad but not great.
That last sentence summarizes my feelings for this issue. I'm torn. On one hand, I appreciate many aspects of it. On the other, it's sort of just there. While Snyder is giving us one-off issues, it's definitely building toward something which hopefully delivers a payoff. The backup story was the first time I thoroughly enjoyed "The Cursed Wheel", mainly due to artist Francesco Francavilla's art (if you haven't seen his work on Snyder's THE BLACK MIRROR, shame on you). - Ryan Lower
GRADE: B
A lifelong Batman fan, Ryan Lower grew up in the midwest
reading, watching, dreaming of The Dark Knight.
His favorite Batman stories are THE LONG HALLOWEEN, THE DARK KNIGHT
and anything from BATMAN: THE ANIMATED SERIES.
He currently resides in his own Batcave in Chicago.
Follow him on Twitter @LOWER_RYAN.

comments powered by