REVIEW: ALL-STAR BATMAN #2
AUTHOR: Bill "Jett" Ramey (Follow @BATMANONFILM)
DATE: September 25, 2016

SYNOPSIS: "My Own Worst Enemy" Part 2!
All aboard the train ride from hell! Batman and Two-Face continue their journey to Harvey Dent's cure through an assassin-infested landscape. But can The Dark Knight continue his crusade across the countryside when Two Face turns one of his greatest allies against him?
Wow. This story is just nuts…NUTS I tell you!
In ALL-STAR BATMAN's first story arc – "My Own Worst Enemy" – writer Scott Snyder continues with his story of Batman and Two-Face on their cross-country road trip from hell. And to do this review justice, I've got to delve into spoiler territory. So, if you don't want to be spoiled, stop reading NOW.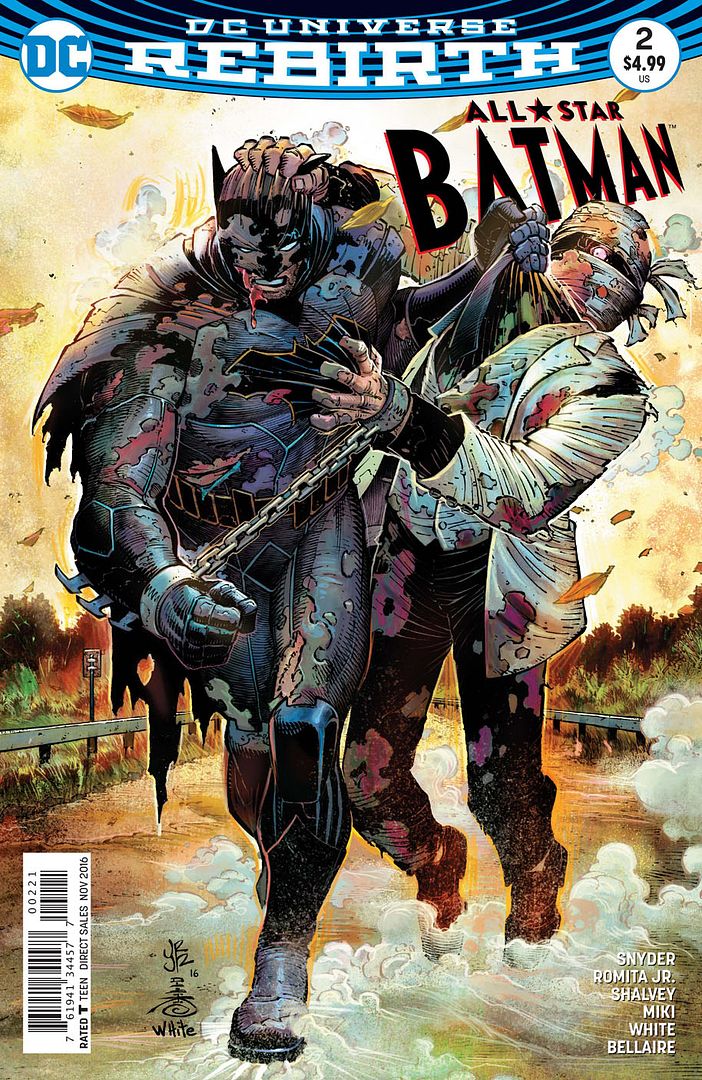 Still with me? Good. Let's continue…
Are Jim Gordon and Harvey Bullock really at Wayne Manor to arrest Batman? And if so, do they really know Bruce is The Batman? Of course, we don't find out in this issue as it pretty much ends with a cliffhanger with Gordon and Bullock about open the grandfather clock. As someone who has been reading Scott Snyder's Batman stories since the very beginning, nothing is as it seems or appears to be heading. We shall see.
As far as that cross-country road trip from hell, it's getting even more hellish! As Batman races to his point of destination – a place where he'll be able to save Harvey Dent from Two-Face – more and more Batman villains show up to take out The Dark Knight and claim the bounty Two-Face placed on Batman's head. I've got to say that it's pretty cool seeing many of these obscure, low-tier rogues pop up in this story. Hell, there's even a very cleaver – and funny – nod to the "Bat-Shark Repellent" from BATMAN '66! And it's also very cool to see Batman brilliantly escape the death traps he finds himself in each issue and Scott Snyder is a master of this sort of story-telling.
Does Gordon and Bullock know that Bruce Wayne is Batman? Why is Alfred seemingly betraying The Dark Knight? And will Batman ultimately be able to save Harvey Dent? I don't know the answers to those questions, but I definitely want to find out! - Bill "Jett" Ramey
GRADE: A

comments powered by