REVIEW: ALL-STAR BATMAN #11
Author: Ryan Lower (Follow @LOWER_RYAN)
Date: June 22, 2017

SYNOPSIS: "THE FIRST ALLY" part two! Batman races to track down his new nemesis before another murder rocks Miami. But with old secrets revealing unsettling truths about his closest ally, what dark accords will the Dark Knight make in order to stop true evil?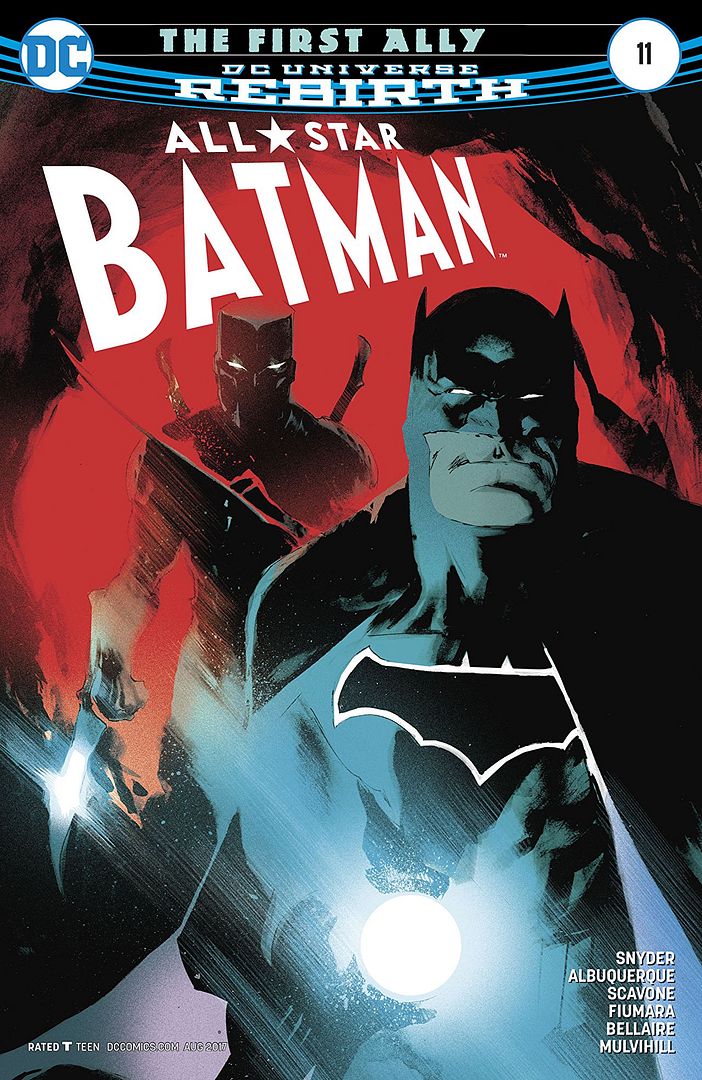 Though ALL-STAR BATMAN hasn't been my favorite title of DC's Rebirth era, it has been bankable. Sadly, we're now in the third act of a Batman film, racing against time to reach a conclusion to the story. Snyder announced recently that September's issue #14 will be the final issue of the run. That being said, we've got 4 months to answer a lot of questions, and issue #11 doesn't hold back.
After his lead to the new ultra-weapon is murdered, Bruce finds himself (surprise) in a tight situation. In a tense few panels, he escapes an inescapable room, plunges into deep waters, and wrestles crocodiles. He is saved by a brown bag, owned by none other than the Penguin, who is the cockroach of the All Star Batman series. Bruce (or "Thomas Elliott") gets a new lead that takes him deep underwater in a party submarine. He suits up as Batman and finds a way in (because he's Batman), only to find THIS lead murdered (I'm seeing a trend) and comes face-to-face with this new villain. After a short bout, he's injured and we're left with a cliffhanger.
Mixed in with Bruce's story are more flashbacks of Alfred's pre-butler days as a soldier/spy, which ultimately link to the present. While Mr. Pennyworth narrates us through the timeline, he doesn't stray from proving his admiration, and love, for Bruce throughout every panel of every page.
That is the strength of this issue (and the previous one) of All Star Batman. Snyder is delving into the emotional attachment Alfred has for Master Wayne. We've seen it before, but never so delicately. The dialogue avoids being too sappy or out of character, and is heartfelt for all of us Batfans who have admired their relationship over the past 78 years. The action is great, but these touching moments are fantastic.
The art is another top-notch effort from Rafael Albuquerque. Detailed and fun are the best ways to describe each page. Though it's a Batman book, I've really enjoyed the pages taking place in the Caribbean. It's bright and colorful, something we're not used to in the Dark Knight's world.
ALL-STAR BATMAN continues its consistent backup story addition. Bruce is undercover in Russia, avoiding killing at any cost while his "partners" don't think twice about it. This has caught the attention of those in charge, which I believe will play a factor later. The backup is a fun read, but not worth making the book $4.99 each month.
All Star Batman continues Scott Snyder's fun ride around the globe, which we now know has a final destination. The book is fun, tense and heartfelt while providing gorgeous art from Rafael Albuquerque. There are 3 issues left and I hope the ride ends on a high note. - Ryan Lower
GRADE: A
A lifelong Batman fan, Ryan Lower grew up in the midwest
reading, watching, dreaming of The Dark Knight.
His favorite Batman stories are THE LONG HALLOWEEN, THE DARK KNIGHT
and anything from BATMAN: THE ANIMATED SERIES.
He currently resides in his own Batcave in Chicago.
Follow him on Twitter @LOWER_RYAN.

comments powered by