Nolan, Bale, and Snyder Up For Justice League Film?
Author: Bill "Jett" Ramey (Follow: @BATMANONFILM)
March 3, 2013

UPDATE: When contacted by BOF yesterday (Sunday, 3/3/13) before the story broke, Warner Bros. had "No Comment" when asked about the story below. - Jett
"Meet the new boss,
Same as the old boss." - The Who
Per "El Mayimbe" from LATINO-REVIEW.COM, some sort of Justice League/World's Finest (Batman and Superman) film will be…
PRODUCED by Chris Nolan and Emma Thomas, DIRECTED by Zack Snyder, and STAR Henry Cavill as Superman and Christian Bale as Batman.
Allegedly.
Here's the video report from my friend from L-R...
Justice League Scoop! from Mayimbe Media on Vimeo.
Yes, you read/heard that right. Christian Bale is again going to don the cape and cowl for a DCU team-up film. "El Mayimbe" says it's a JL film, though I've heard that is might simply be a Batman/Superman movie. And yes, Bale's Batman/Bruce Wayne is this upcoming movie WILL be the same Batman/Bruce Wayne from Chris Nolan's "Dark Knight Trilogy."
Allegedly.
Wow.
I KNOW you all have many questions, so I'll try to answer as many as possible before you send 'em in an EMAIL. Here goes…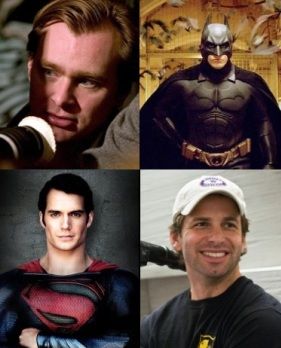 "Did know about this?"
JETT SAYS: No comment.
"Chris Nolan said he was done with Batman. What's the deal?!"
JETT SAYS: To be fair, Chris said he was done directing Batman films. However, Chris did say that he passed on being Warner Bros.' DCU on film "Godfather" when they offered. He also said that THE DARK KNIGHT RISES was ending this Batman's story. Thus, Chris definitely has got some splainin' to do!
Make no mistake, I believe that Mr. Nolan owes fans an explanation, IF all of this is true of course. And this comes from someone who has ALWAYS defended filmmakers from the fans who say that they "owe" them something.
Not this time.
There are A LOT of Batman fans, like me, who adore "The Dark Knight Trilogy." If that story is going to be compromised, then we deserve to know WHY. So if he's reading…
"Chris, what the heck dude?! I LOVE 'The Dark Knight Trilogy' and don't want it messed with. Tell me how this doesn't affect those films." Also...
"So, the story really doesn't end and the balloon does continue expanding, eh?" And...
"So these characters don't exist in their own worlds as you said?"
"You've been adamantly against a Justice League film for years. Now that your buddy Chris Nolan is on board, are we going to see you 'suddenly' *ahem* change your mind?"
JETT SAYS: I'm not going to lie and say that I'm not more open to a JL/WF film knowing that Chris is producing and Snyder is directing. I'm not sure, but I'd bet a month's pay that David Goyer will write the thing. So yes, all of that makes me a bit more open minded. BUT, I still think that Batman in a live-action film with superpowered heroes and villains will look silly. Maybe not so much with Nolan/Goyer/Snyder's "realistic Superman," but I still can't see Bale's Batman alongside Wonder Woman, Green Lantern, The Flash, etc.
Frankly, they're going to have to convince me it can work and work well to get me totally on board.
"If the Batman from Nolan's films is the Batman of this team-up film, how does that affect 'The Dark Knight Trilogy'?"
JETT SAYS: As alluded to above, the affect is NEGATIVE - in my opinion. THE DARK KNIGHT RISES ended that Bruce Wayne's story perfectly. There's no way that the return of this Batman/Bruce doesn't negatively affect the Trilogy. Now, how much of an impact remains to be seen, and I'll leave that up to the filmmakers. Really, what's going to become of "Robin?" Does Joseph Gordon-Levitt return too? Does Bruce bring Selina back to Gotham with him? Oh yeah, Bruce is "dead" – how in the hell are they going to account for that?!
I'm not going to lie and say that this doesn't bother me…A LOT. I didn't want the Trilogy to be touched or retroactively changed, and now it's going to happen.
Allegedly.
"Why is Warner Bros.' doing this?"
JETT SAYS: Oh, that's an easy question to answer: It's a GREAT business decision. To get Nolan and Bale to return is a friggin' coup! Bravo to them for being able to pull it off!
It is, without a doubt, one hell of a move by the studio. With Nolan and Bale onboard, as producer and star respectively, this project has instant credibility amongst both fans and the mainstream audience. Honestly, Bale IS Batman to today's audience. Having him in a JL film is akin to Robert Downey Jr. in THE AVENGERS. So I totally get why Warner Bros. is doing this as opposed to rebooting Batman. Doesn't mean I necessarily agree, but I get it.
So let's recap shall we?
Christopher Nolan and Emma Thomas will produce either a Justice League or Batman/Superman team-up movie for Warner Bros. MAN OF STEEL director Zack Snyder will helm the flick. MOS's Henry Cavill will return as Superman and Christian Bale will reprise his role of Batman/Bruce Wayne. The screenwriter is unknown, but it's expected to be David Goyer (MAN OF STEEL, BATMAN BEGINS).
Allegedly.
While you are letting all of that sink in, know that I am on the case. Regardless of what I personally think about this, know that BOF will be the #1 spot for all news on this project.
IF this story is true and the scenario described above comes to fruition (and I believe it is based on what I know and heard prior to this report), then I was dead wrong about the future of Batman on film -- based, of course, on Mr. Nolan's insistance that he was done with Batman movies. Honestly, I had no reason to think Chris would return and that his Batman's story concluded with THE DARK KNIGHT RISES.
I have nothing but total respect for Mr. Nolan and all that were involved with "The Dark Knight Trilogy." Here's hoping that respect is mutual and the fans get the answers they deserve.
(For more on this story, read Mark Hughes' take over at FORBES.COM and Sean Gerber's thoughts at MODERNMYTHMEDIA.COM.)



comments powered by