THE KILLING JOKE Animated Film Announced
Posted by: Bill "Jett" Ramey (Follow @BATMANONFILM)
Date: July 11, 2015

At the Comic Con International San Diego panel for JUSTICE LEAGUE: GODS AND MONSTERS, Bruce Timm announced that the next DC Entertainment animated film would be an adaptation of BATMAN: THE KILLING JOKE and will be released in 2016. Here's the offical press release...
BATMAN: THE KILLING JOKE is the seminal graphic novel written by Alan Moore and drawn by Brian Bolland that offers up a potential (but not exactly trustworthy) origin for The Joker, and that led to a paralyzed Barbara Gordon to retire as Batgirl…temporarily. For years, it's been one of the most regularly requested animated films by fans.
The animated adaptation of BATMAN: THE KILLING JOKE is executive produced by Bruce Timm and will retell this classic tale in an exciting new way. It'll also feature an original 15-minute prologue that helps set up the story, giving even longtime fans of the story something new to look forward to.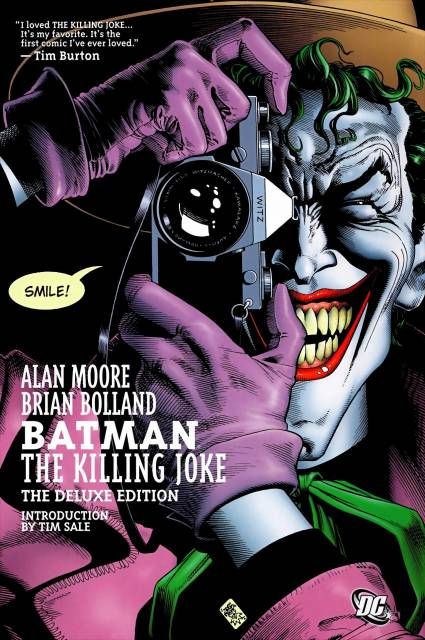 In the graphic novel written by Alan Moore with art by Brian Bolland, The Joker escapes from Arkham Asylum, shoots Barbara Gordon (which leaves her paralyzed) simply to terrorize her father -- Commissioner Gordon of the Gotham City Police Department.
There is no word yet on casting, though Mark Hammil says he'd "unretire" to voice The Joker in TKJ...
While I love Hamill's Joker, I'd rather see someone else with a different take on the character get the role. Same goes for Kevin Conroy and casting Batman.
I guess it was inevitable that TDJ would get the animated movie treatment. However, I thought that DC/WB was getting away from these straight-up adaptations ala THE DARK KNIGHT RETURNS and YEAR ONE for "inspired by" movies in films such as SON OF BATMAN and BATMAN vs. ROBIN. Personally, I hope that TKJ will end up being a loose adaptation of the graphic novel as opposed to a panel for panel/word for word version of the comic. From the press release above, it sounds as if that's the case.
In additiion to THE KILLING JOKE, Batman will be featured in two other DC animated films...
BATMAN: BAD BLOOD - An original Batman story that features the introduction of Batwoman to the new line of animated films.
JUSTICE LEAGUE VS. TITAN — Another original story and the first of the DC Universe Original Movies to feature the Teen Titans.

comments powered by