Based on Frank Miller's celebrated graphic novel, the film finds The Dark Knight, along with new sidekick Robin, battling iconic villains, including Two-Face and The Joker. Beyond his longtime foes awaits a global catastrophe racing toward Gotham City, and with it comes a familiar face, Superman – though this time he has Batman in his sights. Witness this aging Dark Knight as he wages a tireless war against crime while proving that courage and will are indeed timeless.
Disclaimer: I received this Blu-ray set of
BATMAN: THE DARK KNIGHT RETURNS – DELUXE EDITION
from Warner Bros. pro bono for reviewing purposes. Regardless, I would've bought it anyway because that's what I do -- buy and collect Batman stuff. With that confession out of the way, let me say that I know that most of you all aren't getting this thing free, so I'm going to shoot straight with y'all when it comes to you buying or passing on it.
I'm not going to rehash my reviews of either part of the BATMAN: THE DARK KNIGHT RETURNS animated film. I loved them both, so you can read, or re-read, 'em HERE (Part 1) and HERE (Part 2) if you wish.
So, should plop down your money on something you probably already own? The answer of yea or nay to this question boils down to two things: What's new and how much does it cost? Here's the skinny...
WHAT'S OLD
Frankly, most of it. Regardless, here are the extras that are being recycled...
* "Superman vs. Batman: When Heroes Collide" Featurette
* "The Joker: Laughing in the Face of Death" Featurette
* Additional Episodes from the DC Comics Vault: "Two-Face, Parts 1 & 2," "The Last Laugh" and "The Man Who Killed Batman" from Batman: The Animated Series, and "Battle of the Superheroes!" from Batman: The Brave and the Bold.
* Digital Comic Excerpts: "The Dark Knight Returns" and "The Dark Knight Falls" by Frank Miller.
WHAT'S NEW
I don't know if I'd count it as "new," but both parts of the film have been edited into one single 148 minute movie. Even though I figured this would happen eventually, it's still rather cool to be able to watch this animated adaptation as a single film and not have to switch out Blu-ray discs.
As far as stuff that's really "new," there are two features included. One is a commentary track featuring Bob Goodman (screenwriter), Jay Olivia (director), and Andrea Romano (voice director). The second is a78 minute documentary titled "Masterpiece: Frank Miller's THE DARK KNIGHT RETURNS" and it might be worth 20 bucks alone! Featuring interviews with Michael Uslan, Denny O'Neil, Klaus Janson, Grant Morrison, Jenette Kahn and others, "Masterpiece" is as much about the transformation of comic books from kid stuff to a legitimate literary art form as it is about Frank Miller and TDKR. If you're a fan of comic books and Batman, I definitely consider this a must-have.
THE VERDICT
Is BATMAN: THE DARK KNIGHT RETURNS – DELUXE EDITION worth your $20? I say yes – mainly due to the fact that this set is only 20 bucks. If they price was any higher, I would totally recommend a pass because they'd clearly be trying to rip us off. So yeah, if you've got an extra $20 that's burning a hole in your Bat-pocket, spend it on this. Also, if you were smart and didn't buy the previous two releases thinking they'd eventually release it as one film via a special edition package, well played sir -- you'll definitely be getting your money's worth!
And if my written recommendation isn't enough, here's a picture -- taken by the author -- of the four "special" cards that are included…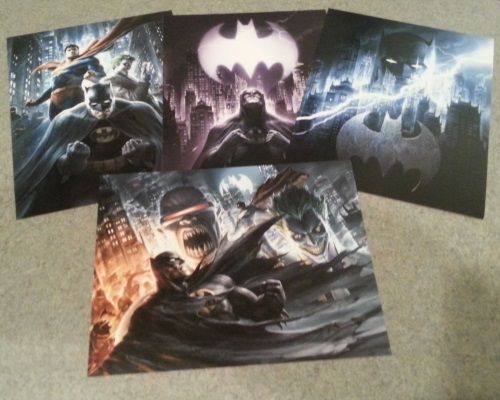 You're totally sold now, right? - Bill "Jett" Ramey