GRAYSON: FUTURES END #1
Author: Matt Grazel
September 5, 2014

SYNOPSIS: Branded a traitor, Dick Grayson has become the most powerful hero in the newly resurgent and dominant Mother Russia - and now, he must battle the Beast from the East in one final struggle for supremacy!

"Only A Place For Dying" is a story about how Dick Grayson's life has changed by remaining apart of the espionage environment five years after the current events of the Grayson title. Two issues of this title have been released prior to the one-shot Grayson: Futures End #1 and the concept of Dick remaining undercover for so many years is interesting.
In issues #1 and #2 of Grayson, Dick has had moments where he evidently misses his allies in Gotham City and wants to complete his undercover mission quickly. Grayson: Futures End #1 gives readers the opportunity to ponder questions as to how Dick's life took a different path and what happened to the character over the previous five years that led him to remain a spy.
Tom King, who co-writes the plot of Grayson with Tim Seeley, creates a story that begins with an eye-catching first page and King uses the technique of recounting in reverse key incidents that lead back to the initial page. King includes portions of Dick's younger years that are relevant to viewpoints of characters he has been close to such as Bruce Wayne and Barbara Gordon.
Helena Bertinelli and Dick have become closer as they are still spy partners in addition to being in a romantic relationship as well. Over the last five years, Helena became aware of Dick's affiliation with Batman. While Dick and Helena are captured and conversing, Dick mentions the Cluemaster's Code and refers to Batman as "Bats." Dick teaches Helena the Cluemaster's Code because she uses the code while speaking with Dick at another time in the issue.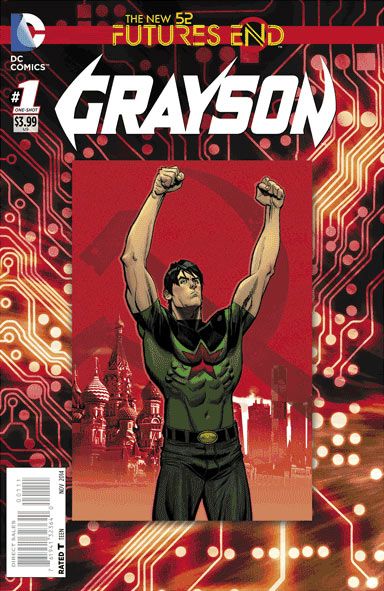 GRAYSON: FUTURES END #1 Cover
Helena and Batman have the opposite perspective regarding committing murder. Helena believes not executing a perpetrator signifies you are giving up responsibility for that individual while Batman does not concur. Helena and Batman acknowledge their own father's during their separate conversations with Dick.
King writes an engaging one-shot for readers with Grayson: Futures End #1. The colors by Jeromy Cox have been an alluring portion since issue #1 of Grayson.
King portrays Dick as someone who is conflicted given what he has learned from Bruce Wayne and how that knowledge has been tested during his time as an undercover spy. – Matt Grazel
GRADE: A-



comments powered by