DETECTIVE COMICS: FUTURES END #1
Author: Bill "Jett" Ramey (Follow @BATMANONFILM)
September 6, 2014

SYNOPSIS: Batman takes his war on crime to the next level, but he needs the help of his greatest ally – The Riddler?!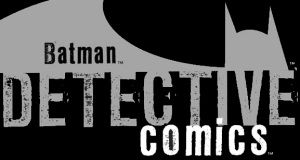 I'm not reading DC's latest "Big Event" – THE NEW 52: FUTURES END – so, if any events from it affect the individual Batman monthlies, it'll leave me rather clueless.
However, this month's tie-in issue of DETECTIVE COMICS doesn't seem to include any of the events of FUTURES END – at least not overtly – and is essentially a one-off story set five years into the DCU future.
Speaking of the story, a crazy turn of events causes Batman (sporting a Batsuit very similar to the one from THE DARK KNIGHT and THE DARK KNIGHT RISES) to partner-up with The Riddler. Why? Calender Man has taken control of Arkham Island and plans to cut off all power to Gotham City which, of course, will bring the city to its knees.
Sound familiar?
Being the smart man that he is, The Batman uses this threat to The Riddler's Zero Year "Magnum Opus" to get Nygma to cooperate. Since The Riddler designed Arkham Island, only he can get past its defenses. Nygma's narcissism will not allow Calender Man to top – or even duplicate – anything he has already done, so a reluctant partnership is born.
(If you are wondering why The Riddler isn't still behind bars after his Zero Year shenanigans, all is explained in this issue…kinda.)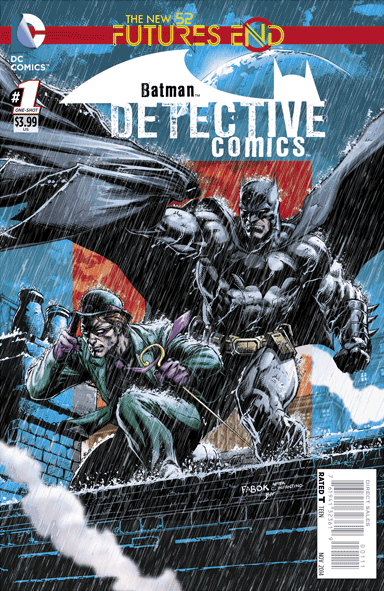 DETECTIVE COMICS: FUTURES END #1 Cover
DC's main scribe, Brian Buccellato, handles this issue's writing duties, though the title's regular artist, Francis Manapul, is not involved. The artwork is handled mostly by both Scott Hepburn and Cliff Richards. I'm not a fan of comics that have multiple artists, and this issue is a prime example of why as the transition between the two is especially awkward and jolting. Neither suck, but the style difference is so glarring that it makes one feel like you're reading two different comics.
Story-wise, I was rather entertained. Calendar Man certainly isn't one of my favorite Batman villains, but Buccellato actually made the character – and his backstory – interesting. Bucccellato also writes Batman/The Riddler very well and certainly seems inspired by the events of Scott Snyder's ZERO YEAR in BATMAN. If you're a fan of Batman vs. The Riddler battle of wits, you want be disappointed. The plot twist at the end was cool, clever, and very "Batmanish," if you will.
Overall, DETECTIVE COMICS: FUTURES END #1 entertained me and I found it to be worth the $2.99 I shelled out to read it. The title returns to its normal format and numbering next month, though the Buccellato and Manapul team will not be involved. A two-parter titled "Terminal" is in store for DC over the next couple of months coming via the "guest team" of writer Ben Percy and artist John Paul Leaon. – Bill "Jett" Ramey
GRADE: B



comments powered by