Frankly, I have NO idea what the hell is going on in
DETECTIVE COMICS
right now.
I thought that the last story arc came to an end in issue #7, but according to DC's synopsis, it didn't. Check this out…
"Bruce Wayne's girlfriend, investigative journalist Charlotte Rivers, tries to protect a long-hidden secret even when her own life hangs in the balance. The Scarecrow is after knowledge only she possesses, and he'll stop at nothing to get it from her."
Uh, this Charlotte Rivers character -- who can't hold a candle to Vicki Vale, Julie Madison, Silver St. Cloud, or Selina Kyle when it comes to "Bruce Wayne Love Interests" -- isn't even seen or mentioned in issue #8's actual story! The Scarecrow is -- he's front and center here -- but I found nothing to connect it to the last story arc.
In the main story, The Scarecrow has Batman involved in some sort of crime-thwarting scavenger hunt -- one that starts out with saving a Scarecrow fear gas-stricken Catwoman from falling to her death from a Gotham skyscraper. Apparently, one would have had to read CATWOMAN #6 to either get caught up to why Catwoman's involved with this nonsense, and/or understand why things between The Cat and The Bat have been "tense" as of late. Anyway…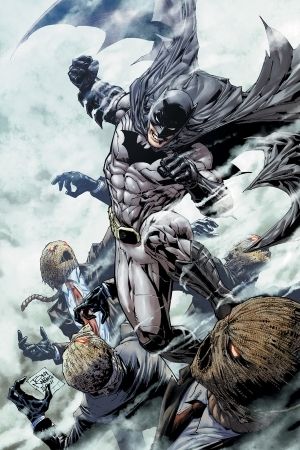 The cover of DETECTIVE #8 by Tony S. Daniel
I won't spoil anything here other than to say that what follows is not only redundant, but consists of nothing more than "That makes no sense!" filler.
Really? You're going to include a classic Batman villain (A B-lister, for the record, but still a classic) and all he does in this issue is, well, what he does in this issue? Please!
Also, the dialogue is terrible. I hope to hell that The Batman really doesn't have this inner voice in his head.
The vibe I'm getting is that Mr. Daniel's has been caught in between a rock and a hard place here. I'm of the mind that whatever Mr. Daniel's had planned for a third DETECTIVE story arc, has been hijacked by the upcoming "Night of Owls" Batman Family crossover. If that's the case, that both sucks and is cool at the same time.
You know what I mean?
The bottom line is that DETECTIVE COMICS #8 comes off as a filler issue. A filler issue that has some good moments and future storyline possibilities, but a filler issue nonetheless.
Come on DC Comics! The Batman's original comic book deserves better than THIS, don't you think?
On a positive note, the artwork here by Mr. Daniel is, as always, awesome. This dude can draw Batman! Also, there's a Two-Face follow-up written by Mr. Daniel with art by Szymon Kudranski. I'll let you judge this Dent short story on your own -- it does have promise -- but I will say that it looks AWESOME. Props to you Mr. Kudranski! - Bill "Jett" Ramey