DETECTIVE COMICS #35
Author: Matt Grazel
October 12, 2014

SYNOPSIS: In the first chapter of a two-part tale by the guest team of writer Ben Percy and artist John Paul Leon, a civilian appearance at Gotham Airport turns into a horror show for Batman when a plane full of dead passengers arrives on the runway! What happened - and what can Bruce Wayne do about it?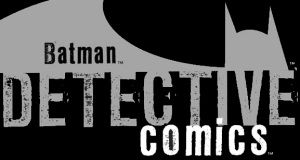 The creative team of Francis Manapul and Brian Buccellato are on a break from Detective Comics in October and November. Detective Comics #35 is the first of a two-part story by Ben Percy and John Paul Leon. Percy and Leon continue the monthly success that the title has had since Manapul and Buccellato took over the title in issue #30.
"Terminal 1" by Percy and Leon is a story that is eye-catching both from a written and artistic perspective. Percy crafts a story that incorporates an environment if Bruce Wayne were to exist in the real world. Bruce Wayne is in the midst of dealing with the actions of a terrorist at Gotham International Airport.
After being persuaded by Alfred, Bruce agrees to go on a brief vacation but before he departs Gotham, he becomes aware of an explanation for why his plane has not taken off when he looks at a copy of a newspaper. Bruce realizes that Batman is needed at the airport.
The air traffic control center notices a fast approaching airplane that eventually lands and crashes through the terminal of the Gotham International Airport. Before Ed Boar, the police chief at the airport, can inspect the plane, he notices Batman has arrived first inside the plane. The flight crew and passengers are deceased. Batman explains to Boar the airport needs to be quarantined.
Part one of the story ends with an online video being broadcasted of an eco-terrorist named Magnus Magnuson who is responsible for the plane crash. Magnuson wants the United States to withdraw troops from the Middle East and he does not believe the troops are there for peace. He threatens the deaths of millions of people if his demand is not met.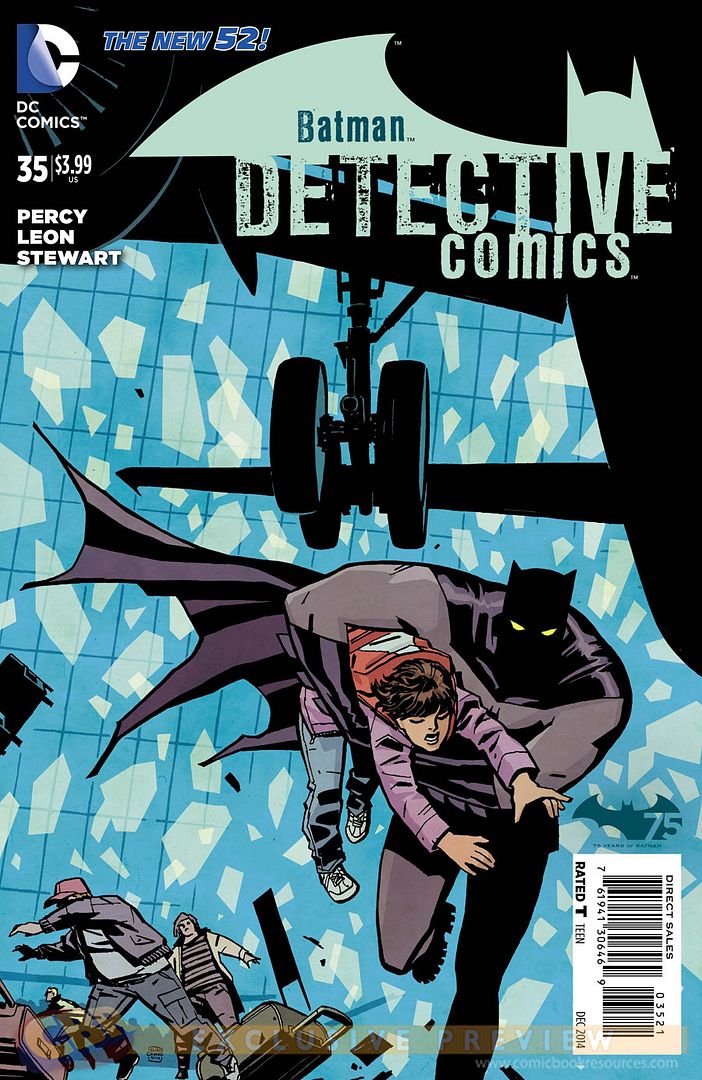 DETECTIVE COMICS #35 Cover
Percy's plot in this issue is grounded in realism, which is unique. It is surprising to read a comic book that deals with the events that occur in this issue and it is rare because the environment Percy has put Batman in has a strong resemblance to the world today. Batman is not dealing with a villain in Gotham in this story but rather a frightening individual who is a terrorist, which is an issue throughout the world.
Leon's artwork is appealing particularly of the two page spreads. The first is of the airplane crashing through the terminal. The second involves Batman telling Boar that they need to figure out who is responsible for the crash and that everybody on the plane is dead. Dave Stewart's colors enhance Leon's artwork.
Detective Comics #35 is a satisfying issue by the guest creative team leaving me anticipating issue #36 and part two of this story.m – Matt Grazel
GRADE: A



comments powered by