DETECTIVE COMICS #34
Author: Matt Grazel
August 17, 2014

SYNOPSIS: Batman is faced with an unsolvable mystery: a dead friend, an unknown assailant and a drug called "Icarus." Has the World's Greatest Detective finally been outmatched?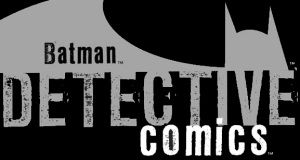 The final issue of Francis Manapul and Brian Buccellato's initial story arc of Detective Comics begins with the same dialogue from part one of "Icarus." However, the circumstances have changed from hope to despair for Annie Aguila.
Annie is persuaded by her father, Holter to kill Jonny. Holter influenced Jonny to kill Annie's mother, Elena, in issue #30. During the climax of issue #34, Batman reveals to Holter his knowledge of the motives of the leader of the Kings of the Sun. During their battle, Holter expresses his rage to Batman about Elena's choice to conceal from Holter that Annie is his daughter.
Manapul and Buccellato use a creative way in one of the panels to intensify the fight between Batman and Holter before the squid, Gertrude, intervenes. Holter screams about his anger toward Elena regarding Annie while Batman replies with fury of his own that Holter damaged Annie's life. The panels of Holter and Batman faces are identical and are placed in between the two foes charging at one another before Gertrude arrives from beneath the water and grabs Holter.

DETECTIVE COMICS #34 Cover
Detective Harvey Bullock remains as determined as ever to prove in his own words that he needs to know the GCPD is better than Batman. Manapul and Buccellato portray Alfred as the proverbial rock for Batman. Alfred explains that even Batman has no choice but to react to a crime rather than preventing wrongdoings from occurring.
At the end of this issue, neither Bullock nor Bruce is satisfied. Both of them feel they have failed in what they wanted to accomplish. Bullock set out to prove that Batman is not needed and Bruce wanted to prevent Annie from going down a potentially destructive path. As Alfred looks on sadly, Annie drives away on a motorcycle sporting a Kings of the Sun vest. Gotham changed Annie's life but not for the better.
Manapul's cover of issue #34 is outstanding again and the image that is striking is a mat that reads, "You're now leaving Gotham City, Safe Journey." The message is synonymous because of Annie's decision to travel away from Gotham City.
The conclusion of the "Icarus" story arc wraps up the best arc of Detective Comics since the New 52 commenced. Between the artwork and the writing, Francis Manapul and Brian Buccellato have successfully contributed their own interpretation of one of the most historic comic book characters.
Well done, gentlemen. – Matt Grazel
GRADE: A



comments powered by