DETECTIVE COMICS #33
Author: Matt Grazel
July 11, 2014

SYNOPSIS: In "Icarus" part four, Batman must contend with a gang war between The Squid and the Kings of the Sun before it consumes all of Gotham City! But can even the World's Greatest Detective defuse a blood feud that's about to go nuclear?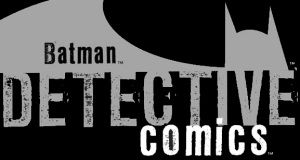 Francis Manapul and Brian Buccellato continue to succeed in their first storyline of Detective Comics with issue #33. The story and the visuals continue to be intriguing and the creative team has set the title apart from the rest of the Batman comic book titles.
Manapul and Buccellato have acknowledge what has occurred in other Batman comic books in the New 52 and they have used particular moments in issues of the other titles to enhance their story. The decision and execution to do so helps make their storytelling in this title the best run by a creative team on the title since the New 52 commenced.
Part four of "Icarus" is perhaps the best issue of the story thus far. Surprising secrets are revealed involving the characters. Manapul and Buccellato continue to write Alfred as a helpful ally for Batman. Alfred has always assisted Batman when he requires help, but his aid in this issue is particularly noticeable. Alfred collects information that is of need to Batman regarding the Kings of the Sun.
Manapul's artwork is excellent again and he continues to amaze with the covers he has done for Detective Comics. Manapul chooses an interesting blend of colors to use on the cover and the decision to include many of the characters inside the design of a handgun is an outstanding work of art.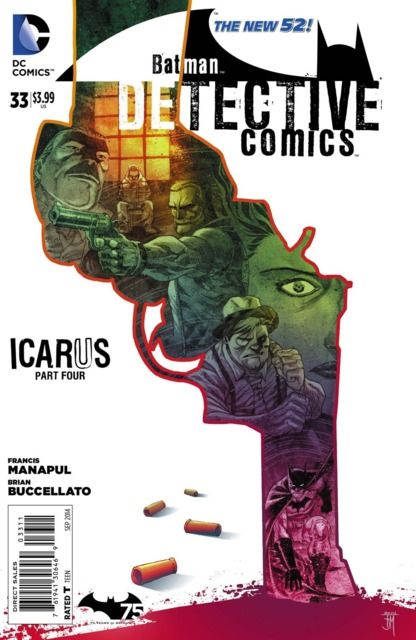 DETECTIVE COMICS #33 Cover
The creative team continues to impress with their writing as well. Similar to the previous three issues, this issue ends on another cliffhanger as Batman and Detective Harvey Bullock are fighting during which an explosion occurs outside of the Old Kane Laboratories building.
Between Scott Snyder and Greg Capullo's run on Batman and Francis Manapul and Brian Buccellato's work on Detective Comics, it could not be a better time to be reading these two Batman monthlies. Both creative teams are doing the character justice in their respective titles. It is only fitting to be occurring during the 75th anniversary of this historic comic book character. – Matt Grazel
GRADE: A



comments powered by