SYNOPSIS:
Death comes to Wayne Manor – and the number one suspect is Bruce Wayne! In order to solve this mystery, Batman's investigations will lead him to the mysterious man known as Sumo!
Francis Manapul and Brian Buccellato continue their story arc with "Icarus" part two in Detective Comics #31.
Detective Harvey Bullock is featured in this issue and he suffered a personal loss in his effort to rid Gotham City of Icarus six years ago. Detective Bullock does not hide his anger throughout questioning Bruce Wayne about Elena Aguila's murder. Elena had been injected with Icarus in issue #30. Detective Bullock suspects Bruce is more involved in Elena's death.
Whether in the comics or on Batman: The Animated Series, Bruce has dealt with Bullock's hostility and it is a good decision by Manapul and Buccellato to include that part of Bullock's character in this story arc.
The decision to have Bruce and Bullock feuding with one another is fitting because both of them are personally affected by the distribution of Icarus in Gotham.
Detective Comics is appealing because of how the writer places emphasis upon Bruce's detective skills whether he is using a disguise or investigating a crime scene.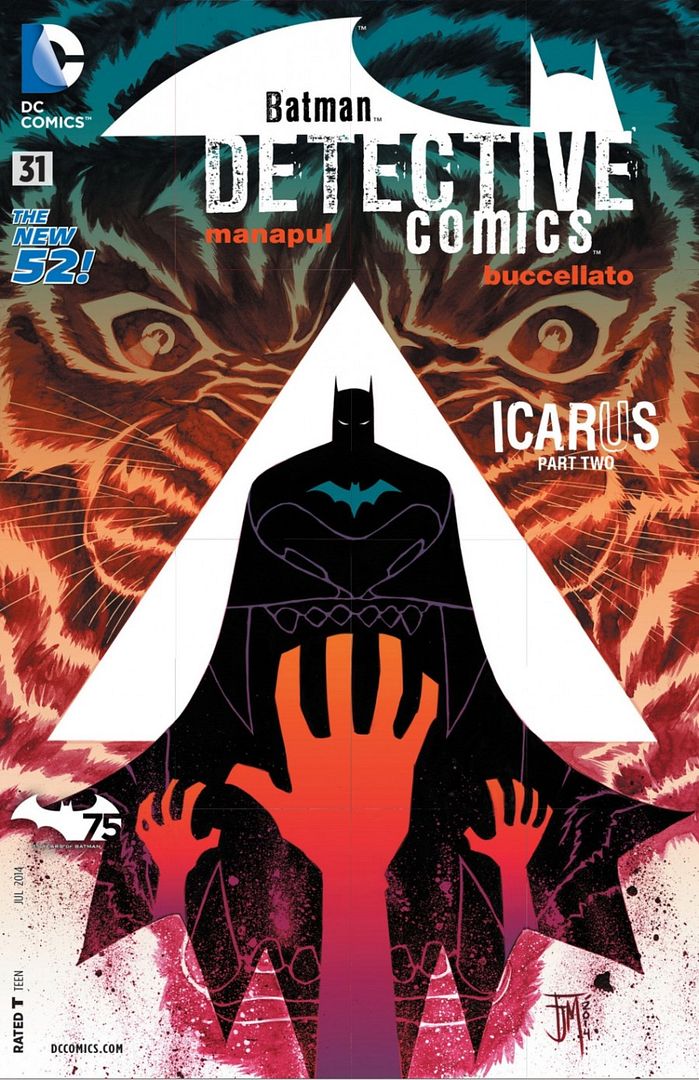 DETECTIVE COMICS #31 Cover
Batman analyzes the crime area where Elena was harmed and decides to inquire about Icarus further. While undercover, Bruce meets an enforcer named Sumo.
Batman encounters Sumo again at the end of the issue and gets into a physical confrontation with him. Sumo tells Batman that he is associated with the individual known as the Squid.
The artwork by Manapul and the colors by Buccellato are good as they continue to make Detective Comics a title that acknowledges past and present story plots in the other Batman comics. One example in this issue is Bullock's reference to the status of Commissioner Jim Gordon that is apart of the Batman Eternal weekly comic book. However, the duo is making the title separate from the rest of the Batman comics by telling a story that is unique on its own.
Readers can enjoy Detective Comics without having to read the other Batman comic books, which is good. This is the only Batman comic book title I am reading and I am satisfied with the work of Manapul and Buccellato. - Matt Grazel