SYNOPSIS:
The stunning conclusion of "Gothtopia"! Batman discovers the terrifying secret behind this brave new world.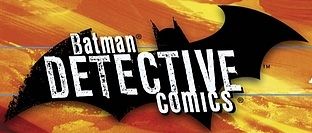 Detective Comics #29 not only is the final part of the "Gothtopia" story arc but the last issue of the title written by John Layman. Aaron Lopresti, the artist for issue #28, contributes to the title again this month. Layman has placed Batman in an unfamiliar environment during the "Gothtopia" arc that is run by The Scarecrow.
Batman realizes he needs to pretend to be under the Scarecrow's influence in order to return Gotham to normal. The Scarecrow instructs for the Merry-Maker and Professor Pyg to take Batman with them to expose people to The Scarecrow's fear toxin that has created this illusion of Gotham.
Due to going undercover working for Scarecrow, Batman develops a further understanding how his toxin is affecting the people of Gotham. The Scarecrow reveals his plan to Batman of expanding his terror beyond Gotham but Batman has an agenda of his own.
Unbeknownst to everyone except Batman, The Dark Knight hands Merry-Maker remedies to the Scarecrow's toxin, which are given to the Scarecrow. The cure counters the toxin and Batman's allies, who were under the effects of the fear toxin, assist him against Scarecrow and his partners. The Scarecrow and his associates are driven to Arkham Asylum.
In the epilogue of the issue, Catwoman mentions to Batman that they were both happy being together and Batman reluctantly explains to Catwoman that the Gotham created by The Scarecrow was not real.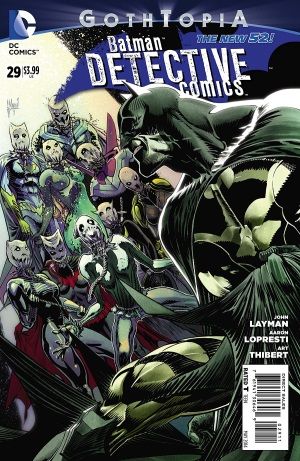 Batman tells Catwoman all he has ever wanted was a safe Gotham before departing and continuing his mission to make a safe Gotham a reality for everyone and himself.
Lopresti's artwork along with inks by Art Thibert and colors by Blond complement Layman's writing. While artist Jason Fabok has been the main artist during Layman's time on Detective Comics, Lopresti contributes his own artistic style that fits Layman's writing.
Scott Snyder and Greg Capullo continue to do an amazing job with the Batman comic book title, specifically during the current "Zero Year" story arc. While Snyder and Capullo are writing the best Batman comic book in DC's New 52, Layman and Fabok have done a solid job with Detective Comics.
Next month will be a good jumping on point for comic book readers as Francis Manapul and Brian Buccellato take over creative duties on Detective Comics beginning with issue #30 - Matt Grazel