DETECTIVE COMICS #23
Author: Bill "Jett" Ramey (Follow @BATMANONFILM)
August 10, 2013

SYNOPSIS: Alfred is forced to confront the Anti-Batman known as the Wrath! Taking care of Batman all these years has left Alfred with more than a few tricks up his sleeve, but will they be enough?
The Batman's battle against The Wrath continues in DETECTIVE COMICS #23. Or Bruce Wayne's battle against E.D. Caldwell would be a better description for what takes place in in this month's installment.
Now that The Batman has figured out the identity of the supervillain cop-killer, The Dark Knight figures the best way to get close to his adversary is via Bruce Wayne setting up a "business meeting" with Mr. Caldwell at the latter's headquarters.
After some back and forth between the two – including some martial arts sparring – Bruce learns that it isn't all of Wayne Enterprises that Caldwell's after, it's only the part of the company that supplies Batman with his gear and "wonderful toys."
Bruce, of course, isn't selling Caldwell anything. He was there only to "accidently waste Caldwell's time" – and keep him busy while Alfred does some covert spying within Caldwell's headquarters.
The issue ends with Alfred in a very dire situation and The Wrath telling Batman that he's coming after him next.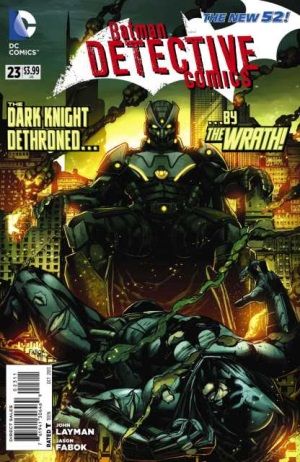 All in all, DETECTIVE COMICIS #23 was a good read – just not as good as the previous issue. I guess that's to be expected as this issue is simply the middle of a three-part story arc. In short, everything we – and Batman – suspected in issue #22 is confirmed in #23, while we're treated to a cliffhanger at the end that sets up a showdown between Batman and The Wrath in the next issue. Of course, we're not going to get to witness this showdown between The Batman and his evil opposite until October, as a few of Batman's villains take over DETECTIVE COMICS in September.
I must say that this title has become one of the best of the many Batman Family monthlies. No, it's not the same level as BATMAN (what is?), but it's more than solid and consistent quality-wise – from month to month. And that's all we can ask if we plan to spend a hard-earned $3.99, right? So if you're picking and choosing which Batman comics you're buying each month, this is one that I recommend you pick up. - "Jett"
GRADE: B
A life-long Batman fan, "Jett"
is the founder of
BATMAN-ON-FILM.COM.
He resides in the great state of Texas with his wife, three kids, and two Boston Terriers.



comments powered by