BATMAN '66 #9
Author: Bill "Jett" Ramey (Follow @BATMANONFILM)
September 1, 2013

SYNOPSIS: Are you Egg-sperienced? The Dynamic Duo are about to be! Trapped aboard Egghead's flying airship and about to be dropped to their doom, how can they avoid getting scrambled?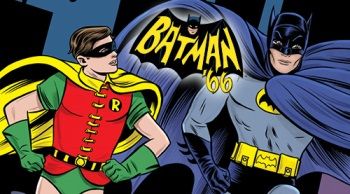 A rather "meh" story featuring an Egghead who looks nothing like Vincent Price is what we get in this week's digital installment of BATMAN '66 #9 titled "Scrambled Eggs."
Essentially, the entire storyline consists of Batman and Robin escaping from an "egg-cellent" deathtrap -- a deathtrap that's in a blimp high above Gotham City. How they were captured and put into the thing is never explained – other than a quick flashback which tells us that Egghead lured The Dynamic Duo in via a fake fundraiser for "Orphaned Circs Folk."
If you're a sucker for stories about deathtrap escapes which are also filled with egg puns, then issue #9 might just be right up your alley. I'm sure Jeff Parker had a blast writing it, but the egg puns got old quick. If not, then I suggest you skip this issue and wait to read it when it's included as a bonus story along with the recently concluded Joker two-parter in the print comic. - "Jett"
GRADE: C
And as an extra-added bonus, a little something for all you deathtrap fans...
A life-long Batman fan, "Jett"
is the founder of
BATMAN-ON-FILM.COM.
He resides in the great state of Texas with his wife, three kids, and two Boston Terriers.



comments powered by