BATMAN '66 #8
Author: Bill "Jett" Ramey (Follow @BATMANONFILM)
August 25, 2013

SYNOPSIS: Looks like it's curtains for The Joker, unless Batman and Robin can save him from the new menace known as The Red Hood. But The Clown Prince of Crime might still have a joke or two up his sleeve.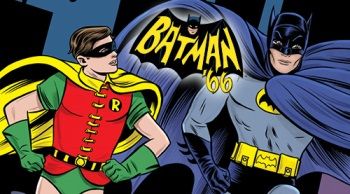 BATMAN '66 #8 ends a short, two issue story arc which featured this title's first appearance of The Joker…and his mustache.
While the first issue in the arc was relatively dark for a story based on the 60s's BATMAN TV show, the concluding issue was definitely more in line with the tone of the original series.
Without giving anything away, all is resolved in B66 #8. We discover the true identity of The Red Hood, as well as The Joker's relationship to him. It's goofy – as one would expect – and it also sets up a future appearance by The Clown Prince of Crime…and his mustache.
Overall, this two-parter felt more like the 60s TV show upon which this comic is based than the previous seven chapters. However, I didn't particularly enjoy it as much as the previous storylines, despite the fact that it featured The Joker. There was simply something "off" about it, if you will. I can't put my finger on it exactly, but perhaps the creative team was just trying to hard due to the fact The Joker was this arc's main Bat-villain. Regardless, still good stuff going on with this title overall. - "Jett"
GRADE: B
A life-long Batman fan, "Jett"
is the founder of
BATMAN-ON-FILM.COM.
He resides in the great state of Texas with his wife, three kids, and two Boston Terriers.



comments powered by