BATMAN '66 #7
Author: Bill "Jett" Ramey (Follow @BATMANONFILM)
August 14, 2013

SYNOPSIS: Has that pernicious pianist Chandell really reformed? Bruce Wayne is about to take in a performance and see for himself. Perhaps his concern should instead be upon Chandell's beautiful but deadly vocalist.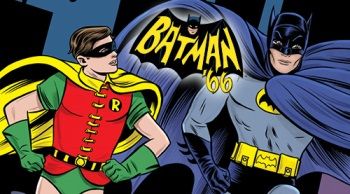 Before Heath Ledger and Jack Nicholson, Cesar Romero (with mustache intact) was the first to bring Batman's arch enemy – The Joker – alive on the big screen. And now thanks to the modern magic known as a "licensing deal," Cesar Romero is back and better than ever as The Joker!
Well, in a (digital) comic book, that is.
A new story arc commences in BATMAN '66 #7 with an installment titled "The Joker Sees Red." Of course, the fact that The Clown Prince of Crime's name is mentioned in the title tells us that The Joker is a big part of this story. But what are we to make of this "Sees Red" part?
The Red Hood, that's what!
Not only does The Joker's pre-acid bath incarnation show up in this issue, so does Arkham Institute and one of the institutions psych doctors. Anyone want to guess the name of this head-shrinkin' physician?
Yep, Harley Quinn – referred to as only "Dr. Quinn" – enters the continuity of the BATMAN '66 universe.
B66 #7's job is to totally set-up the rest of this particular story arc. In short, The Red Hood shows up in Gotham and mandates that the city turn The Joker over to him…or else. Batman and Robin step in and – in a very Hannibal Lecter-esque way – turn to The Joker (and his mustache) for help in capturing this new criminal nemesis.
While still very much "Batman '66," this particular issue definitely feels a lot darker than the six previous ones. Look, this issue isn't THE DARK KNIGHT serious or dark, but it's definitely more heavy than what we've experienced with this title so far.
And that's OK…I guess.
All in all, reading BATMAN '66 #7 has – as I am sure was the whole point -- got me hooked and wanting to see where this story goes. Will the remainder of this particular storyline be this "dark?" How in the hell can The Red Hood and The Joker exist separately and simultaneously? And what's the deal with this Dr. Quinn?
Tune in tomorrow, same Bat-time…
Err, sorry! Actually, we can tune in next Wednesday – via comic books, not TV – to find out what's going to happen next.
Anyone else with me? If not, you should be! - "Jett"
GRADE: A
A life-long Batman fan, "Jett"
is the founder of
BATMAN-ON-FILM.COM.
He resides in the great state of Texas with his wife, three kids, and two Boston Terriers.



comments powered by