BATMAN '66 #5
Author: Bill "Jett" Ramey (Follow @BATMANONFILM)
July 12, 2013

SYNOPSIS: With Batman trapped on the Penguin's iceberg "kingdom" and Gotham's Finest legally prevented from interfering, it's up to Robin to save the day.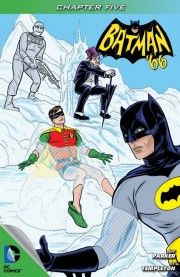 BATMAN '66's second story arc – "Emperor Penguin" – comes to an end in (digital) issue number #5.
To recap, The Penguin – with the help of Mr. Freeze – has built a huge iceberg in Gotham Harbor and had the U.N. declare it a sovereign nation! When Batman and Robin attempted to put a stop to The Penguin's plan, Batman was hit with a blast from Mr. Freeze's freeze gun and placed in a cell in the bowels of the iceberg.
In issue #5, it's Robin to the rescue via the Bat-Sub! Robin finds a way to free both The Caped Crusader and Gotham Harbor – Batman via the Bat-Sub's underwater flame, and Gotham Harbor by separating the iceberg from its propulsion device. With that said and done, The Dynamic Duo do what they do best: Beat the bad guys.
Overall, "Emperor Penguin" was simply OK and not nearly as good as the first story arc with The Riddler and Catwoman. As I said in last week's review of issue #4, this arc isn't as fun as the previous one due to the lack of pop-up word bubbles as well as the lack of changing colors and "motion." Regardless, it's still a great buy and certainly worth the 99 cents it'll cost you.
Also, for those of you who have been wondering, BATMAN '66 will be released in print form as each story arc is complete. So if you're skipping the digital copies each week, you'll be able to pick it up at your local comic book store very soon. - "Jett"
GRADE: B-
A life-long Batman fan, "Jett"
is the founder of
BATMAN-ON-FILM.COM.
He resides in the great state of Texas with his wife, three kids, and two Boston Terriers.



comments powered by