BATMAN '66 #3 & #4
Author: Bill "Jett" Ramey (Follow @BATMANONFILM)
July 25, 2013

Greetings Bat-Fans! I'm combining the reviews of BATMAN '66 issues 3 and 4 together today. I was on the road traveling over the last week and did not get to read #3 until I bought #4 today. On with the reviews…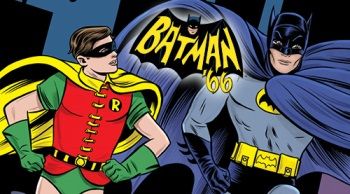 BATMAN '66 #3
SYNOPSIS: In this final chapter of "The Riddler's Ruse," Batman and Robin try to outwit the Prince of Puzzles with the help of their surprising, new ally: Catwoman!
"The Riddler's Ruse" storyline comes to a conclusion in the third installment of this series. Batman and Robin – along with their new ally, Catwoman – go after The Riddler after he tricked The Dynamic Duo and did a ton of damage to Catwoman's new nightclub (the "Meow Wow Wow").
Upon taking the Feline Fatale back to The Batcave (Bat-Knockout Gas was given to Selina before the trip to the Cave), the trio decipher the real meaning of Nygma's riddle. They then head out to intercept The Riddler before he can steal the final work of art he's been after.
Overall, #3 was the best of this three-part storyline. As a fan of the Catwoman character, I was glad to see her portrayed as a hero instead of a villain.
The review continues after the jump!

BATMAN '66 #4
SYNOPSIS: Winter in July? Gotham harbor is blocked by a giant iceberg, and if ships want to pass they'll have to pay The Penguin and his new pal...Mr. Freeze!
A new story arc – featuring The Penguin and (briefly) Mr. Freeze commences in issue #4 titled "Emperor Penguin."
So, why is 'ol Ozzy Cobblepott going by such a royal title? Well, he had Mr. Freeze build him a giant frozen iceberg in Gotham Harbor AND got the United Nations to declare it a sovereign nation!
Silly? Absolutely. But I don't think anyone expects anything but such ridiculousness in this title anyway, right?
There's a cliffhanger at the end that involves Batman not being able to leave the "country," but I'll let you all read it for yourself. I will say it involves Batman not being able to leave for both political and physical reasons.
All in all, I didn't like this one as much as much as I did the three previous issues which made up "The Riddler's Ruse" storyline. It was good, but it wasn't as fun as those first three installments. Why? Well, there's a new artist here – Ty Templeton – and his stuff isn't as "funky" as previous artist Jonathan Case's. It's good, but it's more of the straight-up type of art we see in regular monthlies. Also, the popup dialogue boxes and color changes via each mouse click are not utilized in this issue. Regardless of my minor quibbles, it was still a good read and certainly worth the 99 cent price tag. - "Jett"
GRADE: A (B66 #3) B (B66 #4)
A life-long Batman fan, "Jett"
is the founder of
BATMAN-ON-FILM.COM.
He resides in the great state of Texas with his wife, three kids, and two Boston Terriers.



comments powered by