BATMAN '66 #2
Author: Bill "Jett" Ramey (Follow @BATMANONFILM)
July 12, 2013

SYNOPSIS: Batman and Robin think they've solved the Riddler's latest brainteaser. But when they follow their lead to a nightclub, it's not The Prince of Puzzles who confronts them.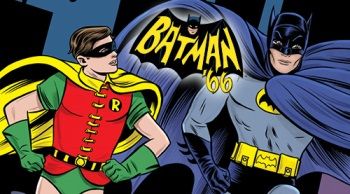 BATMAN '66 is only two (digital) issues in, but DC has got me as a fan – Bat-hook, Bat-line, and Bat-sinker!
Sorry, I couldn't resist! Anyway…
In this issue, Batman and Robin continue where they left off at the end of issue #1: Pursuing The Riddler and trying to nab him before he commits another dastardly deed. After deciphering Edward Nygma's latest riddle, The Dynamic Duo believe that they've got the jump on The Ridder's next crime. Based on "solving" the riddle, The Riddler plans to hit a new nightclub in town known as the "Meow Wow Wow."
Wanna guess who owns the club?
Yes, Catwoman (the Julie Newmar one) shows up in this issue and she's apparently "going straight." Nevertheless, a fight breaks out between Batman and Robin and Catwoman's goons – which of course is presented in the unique and classic style of the 60s TV show. Unfortunately, Batman and Robin overthought Nygma's riddle, as they went to the wrong location while The Riddler committed yet another crime.
Do The Dynamic Duo rebound from their puzzle-solving mistake?
Do Batman and Catwoman take part in some sexy shenanigans?
Does Bruce Wayne pay for the damages at the Meow Wow Wow?
Well, to find out, you'll have to read the issue! Trust me, this just might be the best deal going in terms Batman comics and getting a bang for your buck. And literally, it only costs 99 cents – close enough, right? Great storytelling and artwork – plus the pop-up dialogue balloons and changing colors are cool as hell. If you haven't jumped on the BATMAN '66 bandwagon yet, it's still not too late…or too expensive either. - "Jett"
GRADE: A
A life-long Batman fan, "Jett"
is the founder of
BATMAN-ON-FILM.COM.
He resides in the great state of Texas with his wife, three kids, and two Boston Terriers.



comments powered by