BATMAN '66 #1
Author: Bill "Jett" Ramey (Follow @BATMANONFILM)
July 4, 2013

SYNOPSIS: Put on your go-go boots and get ready to "Batusi" back to the Swingin' 60s as DC Comics reimagines the classic Batman TV series in comics form for the first time! These all-new stories portray The Caped Crusader, The Boy Wonder and their fiendish rogues gallery just the way viewers remember them. In this first adventure, The Riddler's out to steal some valuable artwork from under the noses of Gotham's police. But Batman gets help from an unlikely source: a certain femme fatale dressed in feline finery! - DCCOMICS.COM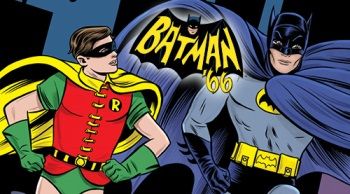 I have a special space in my heart for the 1960s BATMAN TV series. Always have, always will I imagine.
Why? Because it's what made me a Batman fan!
I was only a year old when the show premiered in 1966, so I really don't remember its original run – though I know (via my Mom) that I watched. However, the show went into syndication as soon as it went off the air, and it was the reruns that I watched every day after school that got me hooked on this great character.
So, if you all didn't know, DC Comics has brought the series back to life in the form of a digital comic book. And I've got to tell you all, issue #1 of BATMAN '66 was flippin' awesome! It's done so well – and the digital format is perfect for this funky version of Batman – that I'm positive that people who are not fans of the old TV show will enjoy it…maybe. (Yes, I know many of y'all don't like it for its silliness, but it's still a very important part of Batman's great history.)
In this issue, titled "The Riddler's Ruse, Part 1: Mirth From Above" – Batman and Robin (in all their Adam West and Burt Ward glory) take on the "Pasha of Puzzles, The Riddler. Writer Jeff Parker definitely captures to spirit and wit of the TV show, all along sort of saying "Wasn't this stuff goofy as hell?!" too – but not in a disrespectful way.
The best part of this issue – and I'm sure it'll be for the entire series as well – is the groovy artwork provided by Jonathan Case. Not only do the characters and the scenery look great, but the artwork really makes use of the fact that it's a digital comic. The colors change and dialogue balloons popup as you read and click – very cool! Case's stuff definitively has a Darwin Cooke vibe to it and the pencils and colors combined look like – what's the best way to describe it – when you look at a 3D image on paper, but you don't have the red and blue glasses on. You know what I mean?
I can't wait for future issues of this series and I hope that you all give it a shot. Hell, it only costs a dollar – that's a pretty good bargain don't you think? - "Jett"
GRADE: A
A life-long Batman fan, "Jett"
is the founder of
BATMAN-ON-FILM.COM.
He resides in the great state of Texas with his wife, three kids, and two Boston Terriers.



comments powered by