BATMAN, INCORPORATED SPECIAL #1
Author: Bobby Barrett
August 28, 2013

SYNOPSIS: An all-star special featuring the various members of Batman, Incorporated — Man-of-Bats, Red Raven, El Gaucho, Dark Ranger, Knight, The Batman himself and more! In the wake of their epic struggle with Talia al Ghul, the Heretic and Leviathan see what's next for the members of Batman's army. Featuring stories written and drawn by a collection of industry greats! Plus: Bat-Cow makes her solo debut in a tale by writer Dan DiDio and artist Ethan Van Sciver! - See more at DCCOMICS.COM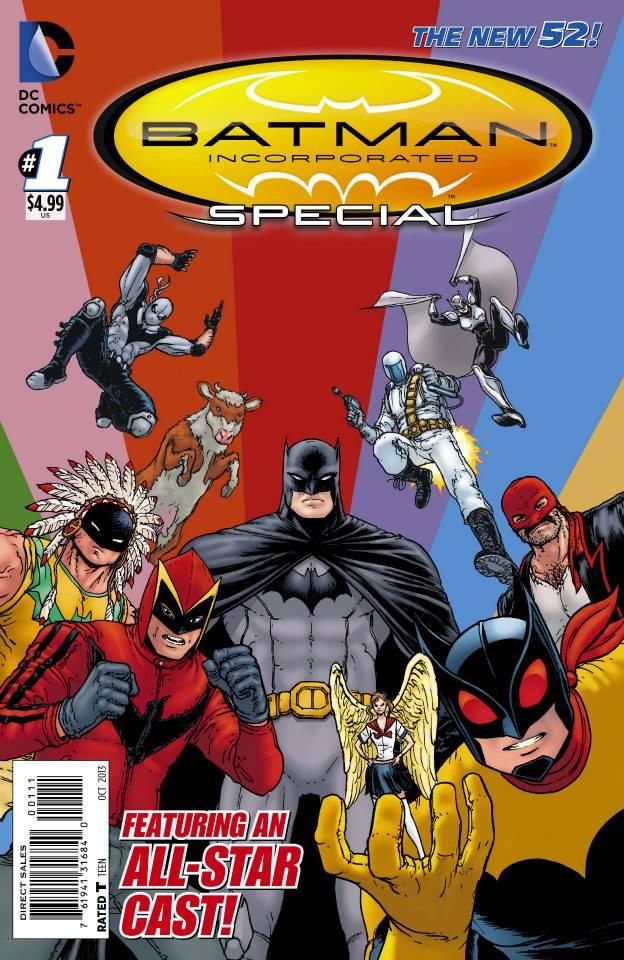 Aaaaand we're back!
That's right: the wackiest book of the Batman Family of comics has returned for an encore with BATMAN, INCORPORATED SPECIAL #1. Giving this series and team its final sendoff, this special gives some new/old talent a chance to play in Grant Morrison's sandbox with some of the memorable characters that emerged from the writer's time with Batman. Given the somber state the series left Batman in, it seems only appropriate that the zany, off-the-wall fun that BATMAN, INC. started out as should get a final chance to shine. Here's a quick rundown of the stories you'll find:
* Batman Japan in "Rending Machine." BATMAN, INC. artist Chris Burnham writes and draws this story starring Jiro and Canary, who battle a creepy villain called Inside Out Man…if you take a guess what he looks like, you're probably right on. Burnham seems quite comfortable in the writer's chair this time around (and maybe I'm more open to this kind of story because it's not interrupting anything else), and his art still looks top-notch. The gisly/cartoony mishmash serves him well and keeps the visuals upbeat with just the right amount of horror.
* The Knight in "Without You." Emanuel Simeoni pencils from a script by Joe Keatrige (with stunning colors by Brett Smith), a story that focuses on Squire's mourning after the loss of her mentor, The Knight, and her journey toward claiming that role for herself.
* "Brave" with Raven Red. Writer/Colorist Nathan Fairbairn teams up with penciler John Paul Leon for a story that essentially has Raven Red chasing a bad guy through a building under construction with flashbacks of him overcoming his fear of heights. Some more insight is given to the Native American culture he and Man-of-Bats come from, as well. In my opinion, one of the coolest things about the "Batman, Inc." concept was seeing different countries and cultures, and how they might interact with someone like Batman.
* Nightrunner, Dark Ranger and El Gaucho in "The Danger of La Muerta en Vida!" Gaucho takes the lead of this trio as they battle a villain who has used sonic signals to control civilians. Writer is Mike Raicht with art by John Stanisci.
* Bat-Cow in "Cowardly Lot." Easily the most talked-about story leading up to this book's release, writer Dan DiDio and aritst Ethan Van Sciver deliver a simple, powerful story showing that even animals can have a sense of justice, as Bat-Cow puts an end to a high speed chase involving a kidnapper.
The whole thing is bookended with pages of Batman looking through "Batman, Inc." member files in the Batcave which are drawn by Declan Shalvey and presumably written by Chris Burnham (although it's never stated). Then, they wrap it all up with a print version of Grant Morrison's parting essay on his time writing Batman, followed by a timeline going through the different books Morrison's epic took us through, along with some related titles for recommended reading.
The whole thing is an enjoyable read, if not essential. I wouldn't push this Special on anyone who isn't already a BATMAN, INCORPORATED fan, as they probably wouldn't know or care who most of these characters are. For fans, though, it's a fun ride fleshing out some of these new heroes, and will be a satisfying conclusion to the hardcover collection coming in December. Hopefully the use of these characters by different creators will serve to encourage their appearances in other Batman books moving forward. - Bobby Barrett
GRADE: B
Bobby Barrett is a lifelong Batman enthusiast living in Fresno, California, with his wife and several cats.
He enjoys reading, writing, acting, and playing very loud rock music.



comments powered by