REVIEW: BATMAN (Vol. 3) #8 & #9
AUTHOR: John Bierly (Follow @JOHNBIERLY)
DATE: October 22, 2016

SYNOPSIS: "NIGHT OF THE MONSTER MEN" part four! The giant monsters might be bad, but Gotham's heroes encounter a whole new threat level when two of their own start terrorizing the city! Batman must face the horrifying possibility of losing two of his closest allies to Hugo Strange's vicious attack.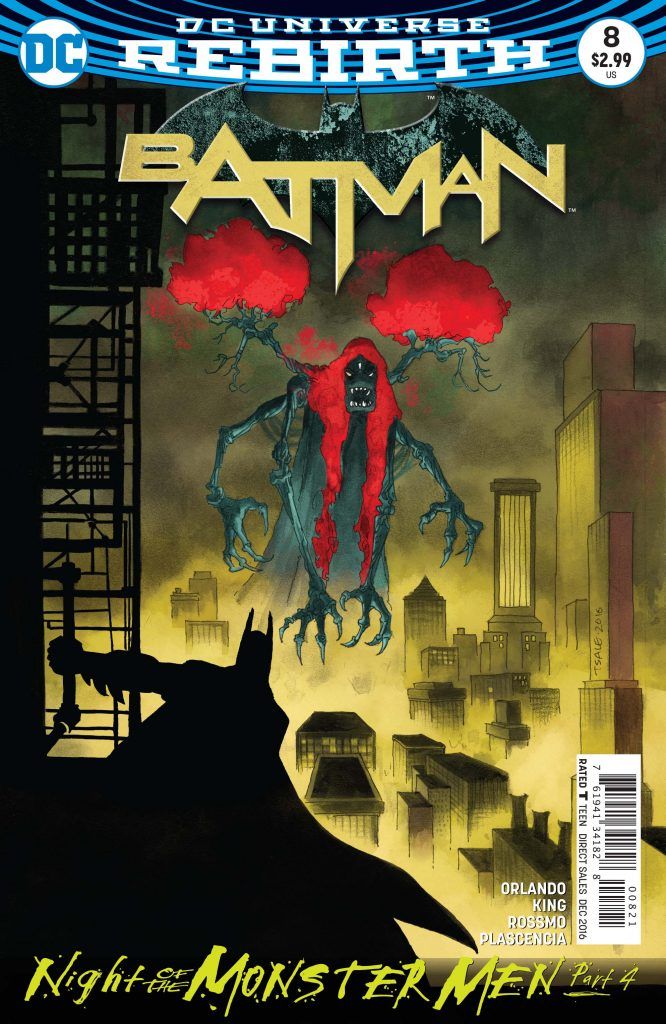 Gotham City's citizens have undergone lots of transformations lately, from being Joker-ized by The Joker in ENDGAME, to getting Mr. Bloomed by Mr. Bloom in SUPERHEAVY, to now finding themselves monster-ized by Hugo Strange. And just as we saw at the end of SUPERHEAVY, Batman armors up to battle a gigantic monster for the fate of his city.
So why doesn't BATMAN #8 feel like a retread, when so much similar content has happened so recently in these very same pages? Look only as far as the script by Steve Orlando (from a story by Orlando and Tom King, whose words return next issue), which puts a wonderfully original and interesting spin on Batman's battle armor while driving the narrative with the thing that has resonated the greatest throughout this new volume's run: family.
Artist Riley Rossmo's monsters are fabulously rendered by pencils and inks that are gorgeously realized by Ivan Plascencia's colors; his hues evoke watercolors and often remind me of Japanese paintings, which fits right in with the monsters-in-a-city motif. Their synergy makes the imagery cinematic -- a shot of Batman and Batwoman gliding away from a blasted, winged creature as light and rain pour through the holes in their ragged, ravaged capes is absolutely breathtaking.
(Also on the art front, I'm loving Yanick Paquette's trippy covers and Tim Sale's handsomely drawn alternates.)
As I mentioned in my review of issue #7, Rossmo's ability to convey his characters' emotions and intellects via white lenses has to be seen to be believed; he makes their masks seem expressive without being elastic, and that expressiveness makes this issue's bountiful character bonds all the more powerful. Batman and his team use science, brains, and brawn to exciting effect, but those family ties are what sets this story apart from the similarly plotted tales we've recently seen.
Once again, we end on a cliffhanger that won't be resolved in these pages. Issue #7 didn't make me want to run right out and buy the crossover installment, but issue 8 demands that I do. - John Bierly
GRADE: A
SYNOPSIS: "I Am Suicide" part one! Batman has always been crazy…but this? This is suicide! In order to retrieve Psycho-Pirate and save Gotham Girl, Batman must recruit a team from Amanda Waller to break into the most impenetrable prison in the world and steal from one of the Dark Knight's greatest foes…Bane. The next great Batman story begins here!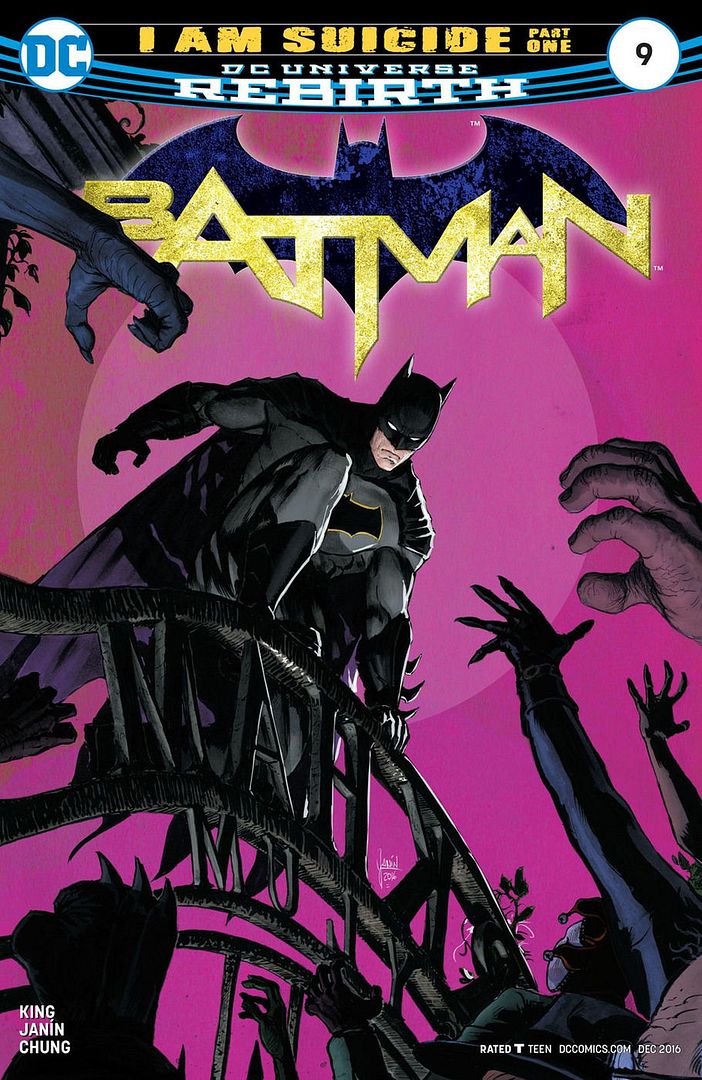 After issues #7 and #8 took a detour into crossover territory with NIGHT OF THE MONSTER MEN, issue #9 brings writer Tom King back to the fore with part one of I AM SUICIDE.
And it's one of the best issues yet of this magnificent new volume of BATMAN.
After a brilliant pair of covers by Mikel Janin and Tim Sale, Bane muses about his life's challenges to a nervous Psycho-Pirate. And even though Bane kneels before the Pirate at one point, his legendary "Do you feel in charge?" power permeates every panel. By replacing the blue waters that devour Bane's younger selves with rich reds and grimy golds, Janin's pencils and inks and June Chung's colors drag us right out of dream and straight into a hell where Bane is Satan on a throne of skulls. Amazing.
Back in Gotham City, Bruce Wayne sits at the side of a badly damaged Gotham Girl. King lets his art team do a lot of the talking, from the cozy colors of the bedroom to the place Bruce looks for reassurance in how he's caring for the brave but broken young woman. Notice how the inks and colors coalesce into her buzz cut in the top two panels, and how well the faces convey what each character is feeling and thinking. Again, amazing.
It's obvious how much King loves writing Alfred, who reminds Bruce that assembling his own Suicide Squad to go after Bane is probably suicidal. But Bruce needs the Psycho-Pirate to bring Gotham Girl back from the brink, and we all know what Batman does when something needs doing.
The splash-page shot of Batman standing outside Arkham's gates is an all-timer; I know a lot of you don't like the dark golden border around this costume's Bat-Symbol, but I love it, and I love how it pops here. Inside the gates, Dr. Arkham takes Batman and Commissioner Gordon on a tour of the inmates Batman wants to recruit -- and the ones he most certainly won't.
Batman's choices are interesting and refreshing, and his firm rebukes to Dr. Arkham's (probably valid) protests are maximum Batman. King and his art team even give us a little mystery to solve as the pages unfold; if you're like me, you won't even notice something's up until it is!
A more deliberate mystery is made of the final recruit's identity, which makes for some nice suspense in the final pages. And when we find out who it is, it doesn't make sense, which is why it works, especially since it's someone we love seeing Batman work with. And given how good King has been thus far at putting original spins on decades-old character connections, the final panel's promise is one I can't wait for King to keep.
This book is my Batman. Serious without being dark. Emotional without being sappy – and showing us Bruce's heart without compromising Batman's power. I'm having a blast, and I hope Tom King stays with us for a long, long time. - John Bierly
GRADE: A+
John Bierly still can't believe he
gets to write for BOF.
Check out JOHNBIERLY.COM to read about the other things he writes about.

comments powered by