"In a rocking chair I dragged into my bedroom so I could read it by the window overlooking the moonlit horse pasture."
Sorry. Don't mind me. I'm just practicing for the question we'll all be asking each other someday: "Where were YOU when you read BATMAN #7?"
Before I even attempt to crack the script, let's talk about how many Academy Awards would be won by Greg Capullo and his art team if this were a film. Capullo would score for best director for the innovation and energy of his compositions and his powerful vision, with inker Jonathan Glapion and colorist FCO sharing the cinematography award by bringing their perfect intuitions of shading, definition, and color to the presentation of Capullo's impeccable lines, knowing when to bathe the characters in light that makes their secrets all the more raw and when to render darkness that soaks up the isolation of new revelations. This is one scary book to look at.
And it should be, given what Snyder has written here. Not content to take away what Bruce thought he knew about his city, Snyder now has the Court of Owls tearing down one of the greatest foundations of his family.
Unless you happen to be that particular foundation, who knows better and thinks that Bruce should know better, too.
Bruce's autopsy of a Talon assassin lets Snyder bring in all kinds of high science and wicked alchemy, with the art team perfectly rendering the delicate framework of veins below the corpse's preserved skin. Even Capullo's character design makes the Talon look like a dead man out of time (in more ways than one), making Snyder's words even creepier.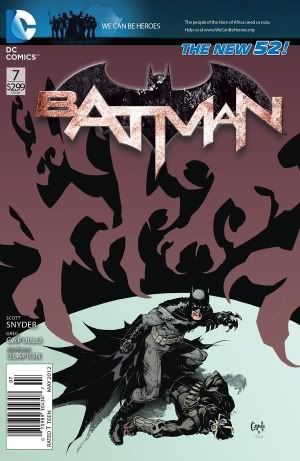 BATMAN #7 Cover by Greg Capullo
Bruce also does one of the coolest things I've ever seen him do in a Batman comic book. (It involves knowing exactly where and how to use his fist to achieve an extremely delicate and very precise result.) And while Bruce works through how the Court's existence reframes his relationship with his city, the Court proves themselves masters of manipulation, masquerade, and murder by putting the next wave of their plan into effect.
And you'll love Bruce's password. It's one little word that shows what a deep and confident grasp Snyder has on the character.
I could talk about this issue for hours, but I can't do it here without spoiling the experience for you. You need to read this one for yourself, knowing as little about it as possible before cracking open the first page.
So I'll just say this:
When I was little, I wanted to be Batman. Today, I want to be Scott Snyder. Long live the new king of Gotham City. - John Bierly