When I somehow conned Jett into letting me stick with Scott Snyder by reviewing
BATMAN
after having written about the writer's landmark
DETECTIVE COMICS
run, I felt guilty about keeping Snyder's writing to myself.
Now I'm beginning to feel karma nipping at my heels, because the job has turned out to be far more difficult than I ever could have imagined. But not in a bad way. More in a way that I'm running out of new ways to say how brilliantly the storytelling team of Snyder, Greg Capullo (pencils), Jonathan Glapion (inks), FCO (colors), and Richard Starkings (letters) is firing not only on all the cylinders we know about but also on new ones they're inventing along the way.
When last we left Batman in the bowels of the Court of Owls' menagerie of malice and murder, he'd been ripped to his physical and wits' end. The Court and its assassin, The Talon, had taken everything from him. But rest assured that his hallucinations of the horrors holding him captive were nowhere near as scary as how those hallucinations make him see himself when "fight or flight" becomes "fight or die," and we all know which of those is the Bruce Wayne choice every time.
One of my favorite bits of last issue's visceral imagery was how Batman's right eye was covered by the perfectly precise white slit of his cowl's lens while his left was exposed and wide with wild terror. And though cosmetically that's still the case in issue 6, there's something different about how the art team renders that eye. We get the sense it's seeing everything and processing it as only Batman can, and the payoff literally had me giggling with wicked glee at just how outrageously badass our favorite hero can be.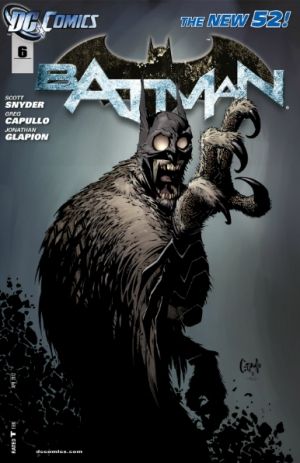 BATMAN #6 cover by Greg Capullo
Snyder's script is on point. From Batman's realization that his broken body's filling up with blood in all the wrong places (and what a great bit of phrasing that is) to the lesson he later gives his captors on what terror truly means (including the delicious term he uses to describe the Court's model of Gotham), Snyder brings originality and intensity to every bit of dialogue.
And the art surpasses even the masterpiece we got last month. Capullo is pushing himself into new directions on every page, with Glapion and FCO enhancing the pencils with an eerie intuition of when to lay it on appropriately thick and when to hold back, rendering everything from shadows to blasts of white light with effortless ease.
As much as you'll truly feel the toll these terrible days have taken on our Caped Crusader, there's no denying the rush of excitement you'll feel as Batman begins to reclaim himself one bloody bruise at a time.
But don't go in expecting a happy ending. Snyder has a way of making sure every danger leads to another, and Batman's a long way away from solving this case in one piece. As always, next month's installment can't arrive soon enough. - John Bierly