REVIEW: BATMAN #51
AUTHOR: John Bierly (Follow @JOHNBIERLY)
DATE: May 4, 2016

SYNOPSIS: Batman has battled everything from the Court of Owls to Mr. Bloom to the Joker, but how does he handle a quiet night in Gotham City…?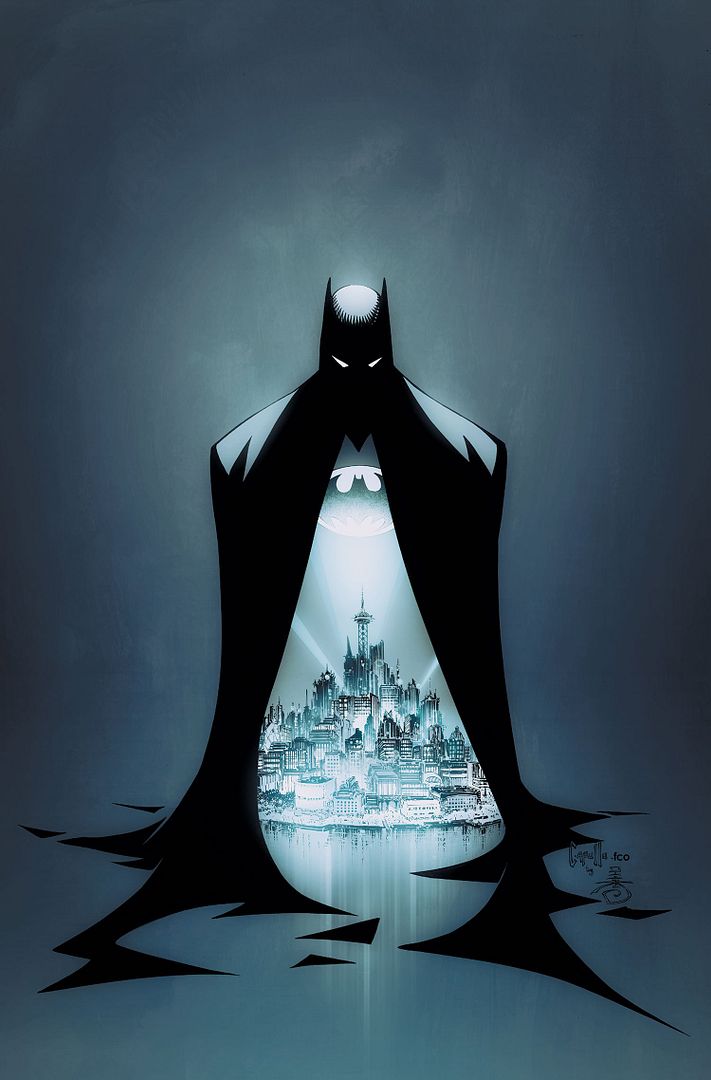 BATMAN #51 finds writer Scott Snyder and artist Greg Capullo wrapping up what has been one of the Caped Crusader's definitive creative runs. Even as I found myself falling away from the other New 52 books, BATMAN never felt like anything less than home -- and it ends with senses of community and closure that leave the lights on and the doors open for infinite adventures to come.
As we follow Batman through his final (for now) Snyder/Capullo patrol through a Gotham knocked black by a power outage, we see that all the toys are back on the shelf. Alfred's got his hand back (which makes me happy, because his initial refusal to fix it felt so asinine). Trophies that had been hijacked by The Joker for his big ENDGAME parade are back (in a new arrangement) in the Batcave, and Jim Gordon is GCPD Commissioner again after the SUPERHEAVY story that allowed him to save his city as a Batman.
The Court of Owls gets a cool and creepy scene that ends with a knockout blast. Arkham still bursts at its seams with inmates itching to escape, while other villains use their freedom to plot new schemes.
And on a park bench at the edge of the city, a thin man waits to become whatever he's going to be next.
Throughout it all, and especially as it builds to a final page ablaze with the majesty of what happens when Capullo, inker Danny Miki, and colorist FCO Plascencia reach peak synergy, Snyder reminds us that he sees Batman as Christopher Nolan did in BATMAN BEGINS -- not just as a warning to criminals, but more importantly as a symbol of hope and inspiration to the good. The finale accomplishes this beautifully by circling back around to some of the book's earliest moments, and the payoff satisfies. Big time.
Capullo and his crew work much magic of their own. One of my all-time favorite Capullo moments happens here, in a panel where Jim Gordon is silhouetted in shadow -- but we can still tell he's smiling. Other moments are bigger and brawnier, comic-bookish without being cartoonish. Snyder will carry on with new artists in ALL-STAR BATMAN, but Capullo's Caped Crusader -- and his ability to express action and emotion so effortlessly -- will be greatly missed. >[? (And I do love the new Batman costume. The gold outline on the symbol sets it off with a nod to the old yellow oval, while the purple inside the cape is a thumbs-up to Batman's original 1939 gloves -- which Capullo brought back for his vision of Bruce's first Bat Suit in ZERO YEAR.)
The stories Snyder and Capullo told were consistently solid. The Court of Owls was creepy (though I still don't like anything that challenges the perfectly simple notion of the Thomas-Martha-Bruce family unit, as Snyder's new version of Lincoln March did), and I loved how The Joker killed the family without killing anyone in the family in DEATH OF THE FAMILY.
ZERO YEAR, SECRET CITY, and DARK CITY were packed with fresh angles on Batman's earliest days as a hero (including a moment where Batman beat a lion by breathing napalm at it), while ENDGAME gave us a perfect tale of Batman calling The Joker's bluff for what we knew would never truly be the final time. (I'm still glad they got it down on paper.) SUPERHEAVY never quite committed to Gordon as Batman, but it did do more than simply bide time until Bruce was back in the cowl. And now that we're at the end, it seems like we're only just beginning.
So, to answer this issue's challenge, "Gotham is..."
"...home."
And I'll be coming back to visit it often. - John Bierly
GRADE: A
John Bierly still can't believe he
gets to write for BOF.
Check out JOHNBIERLY.COM to read about the other things he writes about.

comments powered by