REVIEW: BATMAN #49
AUTHOR: John Bierly (Follow @JOHNBIERLY)
DATE: February 14, 2016

SYNOPSIS: It is time. Bruce Wayne has reclaimed his true past as Batman. Now he must descend into the cave and face what he once was. Can he truly leave behind a life free from the pain and anguish of the Bat? Can he plunge once more into the madness and purpose that once consumed him? In this special, thrilling issue, watch as the fate of Bruce Wayne, and The Batman, is decided once and for all!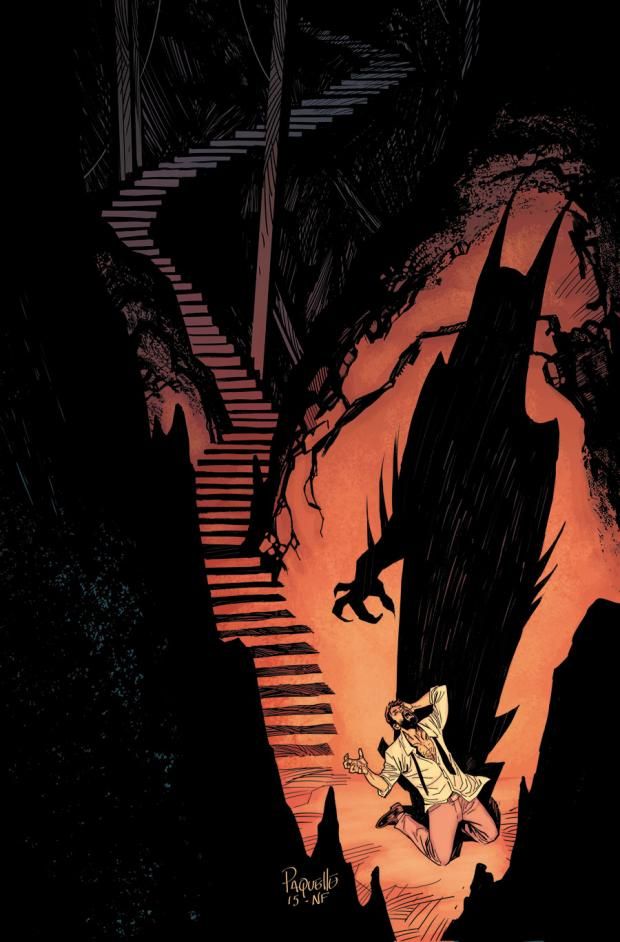 Happy Valentine's Day, Batman-On-Film.com Family!
I'm sorry this review is a few days late; I was in the hospital with a massive kidney stone, and the less spoken about those days, the better!
But one of the things that really kept me pushing (figuratively and literally) was writer Scott Snyder's BATMAN #49, which roars forward on the energy from that triumphant final page of #48.
Guest artist Yanick Paquette, no stranger to otherworldly adventures of The Batman after helping madman Grant Morrison kick off BATMAN INCORPORATED, immediately plunges us into the impossible with an opening page that sets the every stage for word and frame that follow. As we careen through a cosmic whirlwind where matter meets the mind, the universe informs Bruce Wayne that he'll never be Batman again.
Nice try.
With a script assist from James Tynion IV (whose appearance in such a pivotal issue makes me wonder if he's on a list to potentially replace Snyder on BATMAN if the rumors of Snyder's move to DETECTIVE are true), Snyder first guides us through a fantastical (and fantastic) alternate reality where Mayor Bruce Wayne takes meetings with a Court of Owls he's beaten into benevolence. Batman is needed. But is the job too big for one man? (And wait until you see where Wayne Manor is! It's fabulous beyond comprehension.)
Meanwhile, back in the Gotham City we know, Alfred Pennyworth continues to beg Bruce Wayne not to descend the stairs Bruce now remembers (and probably never forgot) are waiting behind it. As our Bruce tries to figure out how to restore the "Infinite Batman Machine" that Alfred disabled, our alternate Bruce Wayne faces his greatest adversity surrounded by his allies (including an Alfred surrogate you'll have to see to believe) and loved ones.
This "other" Batman has it all. He's Bruce Wayne. He's the Mayor of Gotham. He has a family. He has love. Forgiveness of his foes. Forgiveness of himself. And he still has Batman.
Can our Bruce, from whom Batman has been erased, ever ascend to that ideal? Or will he literally die trying? That's the answer Alfred can't bear to have answered all over again, and the moving, unexpected resolution redefines one of SUPERHEAVY's major players.
And yes, this story is still part of SUPERHEAVY, even though Jim Gordon doesn't appear at all. (Well, not "our" Jim Gordon. We do see an alternate Jim when worlds collide.) This is entirely Bruce's tale, and it's a big one.
Paquette and Capullo have similarly brawny styles that work so well for stories this size, though I did miss Capullo's expressive faces and eyes. (Paquette largely keeps Bruce's eyes in the shadows, preferring instead to let his brow to most of the talking. It works. It's just different.) Nathan Fairbairn's colors are appropriately otherworldly, while Steve Wands provides interesting lettering to bring it all together with style.
This issue is beautiful. It's such a good "This Is Why Bruce Wayne Is Batman" story, in fact, that any subsequent story where someone else is Batman is going to seem ridiculous after this. SUPERHEAVY itself was already fatiguing many of us who've been down this road so many times before, but this issue almost makes up for it.
And so the stage is set for issue #50. Jim Gordon's Batman and an army of prototype Batman robots manned by Gotham's finest vs. Mr. Bloom... who's about to get Batman'ed by the Batman who started it all.
Bring it on! - John Bierly
GRADE: A+
John Bierly still can't believe he
gets to write for BOF.
Check out JOHNBIERLY.COM to read about the other things he writes about.

comments powered by