REVIEW: BATMAN #44
AUTHOR: John Bierly (Follow @JOHNBIERLY)
DATE: August 16, 2015

SYNOPSIS: It's the origin of new villain Mr. Bloom! In a tale from Bruce Wayne's past, Batman must investigate a vicious crime in the shadowy area of Gotham City known as the Narrows. Don't miss this special issue illustrated by superstar artist Jock.
I'll never forget how disappointed I felt when I found out that writer Scott Snyder's first Batman story, "The Black Mirror," would feature Dick Grayson rather than Bruce Wayne as Batman. I'd been impressed by Snyder's enthusiasm and intellect in interviews, and I'd grown weary from too many "Bruce Wayne's missing or presumed dead, so someone else is Batman" stories.
The latest of which, by the way, is being told by Snyder himself. But with issue #44, we're taking a break from Mecha-Gordon-Zilla-Batman to go back in time to the origin of Mr. Bloom. Or at least that's how the issue's being advertised. It's actually no such thing, with Mr. Bloom appearing only briefly. It's the kind of faulty hawking I'll gladly take in a heartbeat, because this issue is all about Bruce Wayne's Batman.
Regardless of my initial caution, I'd fallen madly in love with THE "The Black Mirror" by the end of its first page, largely due to the perfect union between Snyder's words and artist Jock's raw, urgent lines. And though I enjoyed their tale of Dick Grayson as The Caped Crusader, I longed for a day when these two would unite for a Bruce Wayne/Batman story.
That day is here, with Jock stepping in this month for regular artist Greg Capullo to join Snyder and guest co-writer Brian Azzarello for a tale taking place in the months after Zero Year, in a time where Bruce Wayne doesn't know his city nearly as well as he someday will. The place is The Narrows, where a young boy's bullet-ridden body is found in the middle of a field after it literally fell from the sky. How did he get there? And who dropped the boy, both figuratively and literally?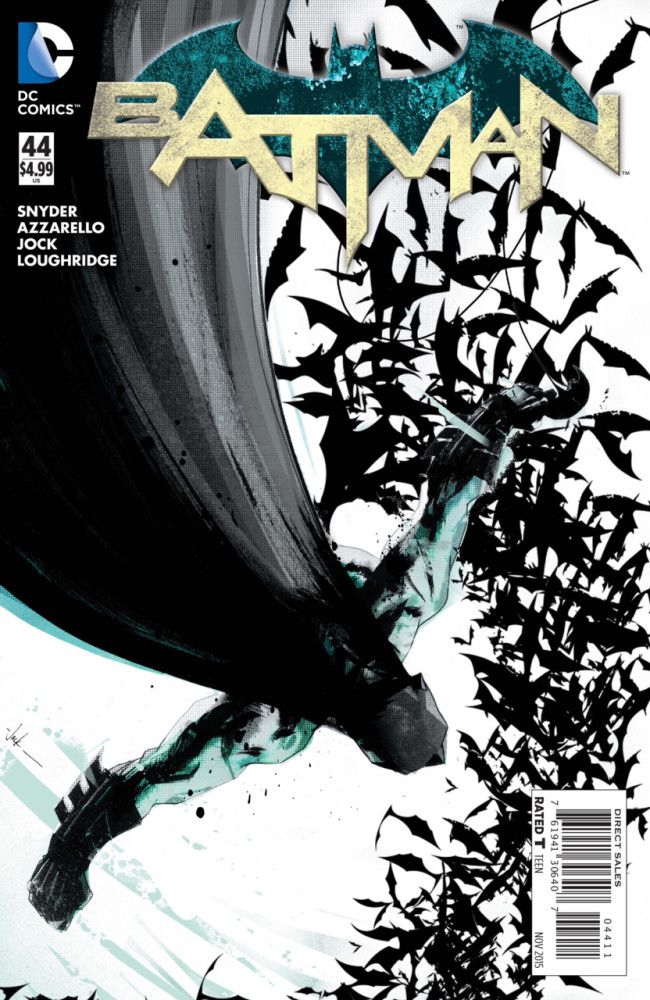 BATMAN #44 Cover by Jock
Those answers, and many more, unravel over the course of a story that would have been right at home during the classic '70s era of Batman detective stories. This one's got it all, from super-heroics to science fiction to a throbbing social conscience reflecting many of today's headlines.
Every page – including the eight extra ones that knock the price up a dollar over a standard issue – is narratively and artistically dense. Bruce learns something about being Batman and something about being Bruce Wayne; the only panel in the entire issue that gave me pause has a beautiful payoff by issue's end, and it literally made me put the issue down and clap.
Jock's art fit the story's tone perfectly. It's almost odd seeing a normally proportioned Gordon after getting used to the lean, muscular Marine Capullo's pencil's have chiseled him into lately, and Batman uses the cape in a thrilling way you've never seen in a big action scene. There's a lot to see and feel here, with Lee Loughridge's muted colors and rusty shadows adding much to the atmosphere.
If you've been sitting out SUPERHEAVY because Bruce Wayne isn't Batman yet again, make sure you grab #44 this month. It's an instant classic that's sure to find its place in a future compilation of the greatest Batman stories ever told. - John Bierly
GRADE: A+
John Bierly still can't believe he
gets to write for BOF.
Check out JOHNBIERLY.COM to read about the other things he writes about.

comments powered by