REVIEW: BATMAN #41
Author: John Bierly (Follow @JOHNBIERLY)
June 11, 2015

SYNOPSIS: The all-new Batman makes his debut! Who is he, and what happens next? Find out here as a new era begins in Gotham City!
"None of this is Batman."
"No, it's not. But if you want to be a part of it,
you're going to have to accept that."
The dialogue above is from today's BATMAN #41.
Is it also a mandate from writer Scott Snyder to an audience still reeling from Bruce Wayne's "death" in issue #40?
Well, maybe some of you are reeling. Regardless of how well most of it was done, I'm finding it difficult to feel affected by yet another "event" where someone else takes up the Bat-Mantle because Bruce Wayne's dead (until he isn't). Which means that in order for this story to succeed for me, it needs be both fresh and interesting.
What makes it interesting is who's under the cowl...or the helmet...or whatever that thing is supposed to be!
Jim Gordon has always been one of my favorite members of the Batman family, so that's fun. (For example, I love that Gordon's air machine is a Bat-take on the GCPD's ubiquitous dirigibles.) And I love that Gordon figures things out on the fly as a cop instead of as a superhero.
There's no sign of Alfred, but Julia's on the blimp with fellow Bat-technician Daryl Gutierrez and Geri Powers, whose company is running this new Batman initiative. Commissioner Maggie Sawyer gets to be in the trenches for a minute, too, and Gotham feels the same way it always feels on the other end of Snyder's pen -- like a character all its own, and this time from a different beat.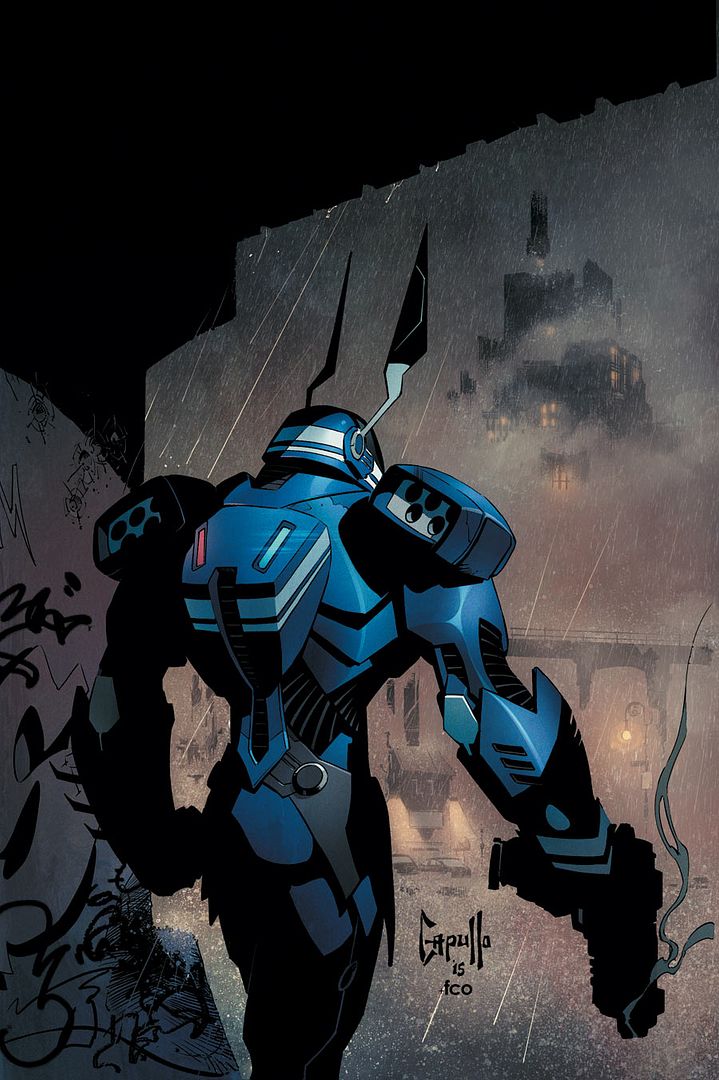 BATMAN #41 Cover
But sometimes it feels a little too jokey. Gordon's awfully chatty in the suit, but I'll give the guy a break. It's not every day that you head into battle for the first time as The Batman. Elsewhere, however, Gordon calls the new Batman armor a "RoboBatBunny," while Julia quips, "It grows on you." You don't need to keep hitting us over the head with it, Scott. If this is the story you want to tell, you don't need to apologize or make it meta. (Which happens again, by the way, when Daryl gives Gordon color options for the suit. How would he ever have seen The Batman of Zur-En-Arrr? It's funny, I guess, but it feels too winky-winky.)
I was enjoying accepting Gordon in the armor until he stepped out of it in a Batman costume looking as tall and as trim as Bruce Wayne, and then I wasn't so sure. But I was pulled back in again on the next page, when we see the physical shape that Gordon has gotten his 46-year-old body into. Missing his mustache and sporting the highest, tightest cut his head has seen since his days as a Marine, Gordon looks like someone who takes the job seriously.
And that's why he's perfect for it.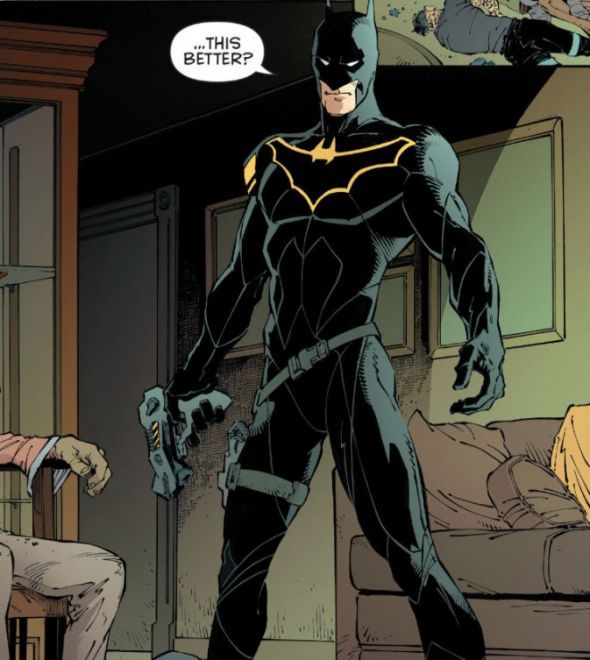 "Bat-Gordon" by Greg Capullo from BATMAN #41
Also perfect is Greg Capullo's art. I love all of the character he puts into Gordon's expressions and posture in the flashbacks with Bullock leading up to the reveal of the new, fitter Jim. And though the haircut, shave, and physique make him look younger, Capullo keeps Jim's maturity intact. FCO Plascencia's brighter colors are highlighted by a lighter touch from Danny Miki's inks, and I love how the greenish tint to Gordon's apartment/HQ stays in line with Gordon's military roots.
Its self-referential tendencies aside, BATMAN #41 has a lot of fun setting up some really entertaining possibilities. My advice? Dive right in, and don't look back. (Which is why I didn't care for the first and final pages, which are hardly surprisingly and diminish Gordon's story.)
And let's also not forget that Scott Snyder's first Batman tales had someone other than Bruce Wayne under the cowl, and that worked out just fine. If this issue's strengths are any indication, we remain in good hands as always. - John Bierly
GRADE: A
John Bierly still can't believe he
gets to write for BOF.
Check out JOHNBIERLY.COM to read about the other things he writes about.

comments powered by