BATMAN #35
Author: John Bierly (Follow @JOHNBIERLY)
October 10, 2014

SYNOPSIS: From the superstar creative team that brought you a new start to the Caped Crusader comes the story that could end him. Be there in October for the biggest, deadliest and most epic story yet from writer Scott Snyder and artist Greg Capullo – "Batman: Endgame" begins here!
It's a good week to be Scott Snyder. Image Comics released the first issue of his fabulously nasty and fantastically scary new series, WYTCHES, drawn by his DETECTIVE COMICS: THE BLACK MIRROR partner (and longtime Batman superstar) Jock, and he's ramping up a new storyline called ENDGAME in the pages of this week's BATMAN. It's a doozy in more ways than one.
After a fill-in issue and a FUTURES END detour, Snyder and penciller Greg Capullo make us feel right at home again with a typical opening page overflowing with Capullo's beautifully detailed art, Danny Miki's perfectly accented inks, the impossibly rich (and absolutely popping) palette of colorist FCO Plascencia, and narration that tells us something we didn't previously know about Gotham while setting up the issue's conflict in an unexpected way.
And then the gears shift. Who's gassing Gotham on page 2? (The answer made me giggle with glee.) Who is The Batman challenging from inside a massive suit of battle armor that makes him look like he's wearing a cross between an AT-AT and the giant Bat-Tank from THE DARK KNIGHT RETURNS (with some design elements from an actual bat head thrown in for good measure)?
And then the title page tells us that we've moved not only past the ZERO YEAR origin story but also beyond BATMAN ETERNAL's weekly run. Feeling like you've got a grasp of what's going on? NO? That's OK, because the next page hurls us into BATMAN BEYOND THUNDERDOME before the following page slings us back into the past (though only by 29 minutes).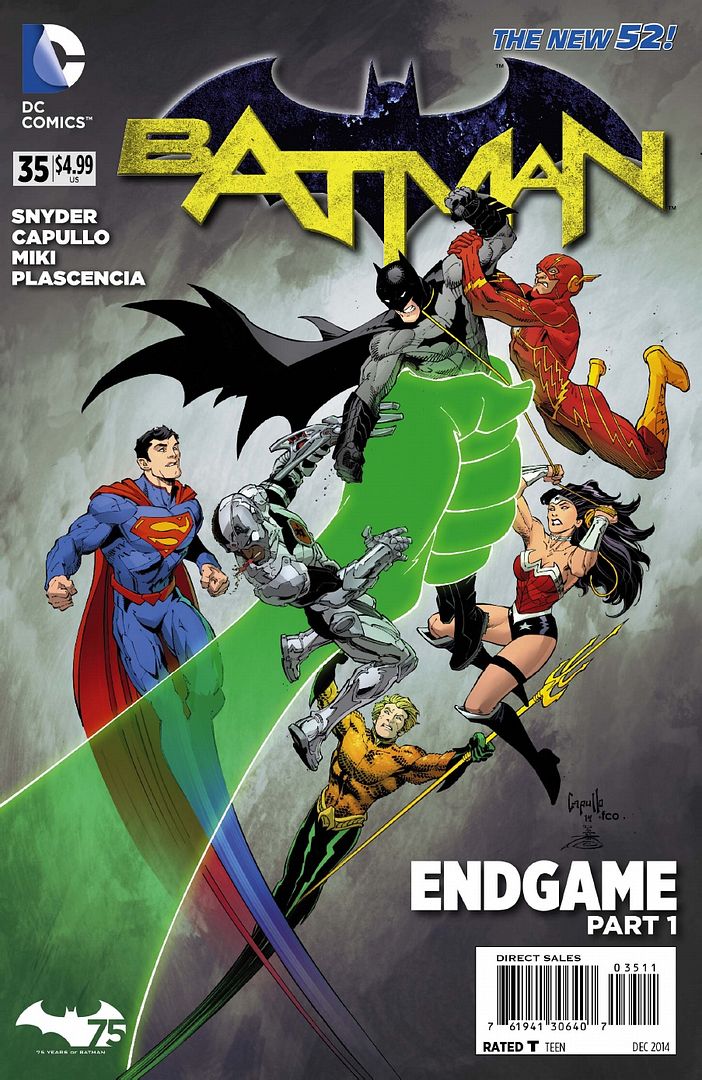 BATMAN #35 Cover
My first thought was, "Who's this computer whiz running Bruce's new base of operations, and why is she using the word 'Dad' to refer to Alfred?" I guess I should be reading ETERNAL, right?
After a brief exchange of levity, one of Batman's Justice League compatriots arrives in a burst of violence... but keep your eyes on what Bruce is able to grab as he's dragged out the window and up and out of a skyscraper. So awesome.
The following pages are maximum Batman. His initial assailant is only the first of many, and his response involves unleashing a series of battle plans that make his old TOWER OF BABEL contingencies look like cupcake recipes.
Why are Bruce's allies so intent on killing him? You'll find out by issue's end, but it might not be who you're expecting. After all, you were probably as wrong about who gassed Gotham at the beginning of the issue as I was.
The creepy backup written by James Tynion IV rides high on the deliciously diabolical art of Bat-veteran Kelley Jones, whose exaggerated lines become even more defined by Michelle Madsen's colors. The concept of the story is classic and mysterious, and Kelley's rendering of an old adversary sent my heart back to the glory days when Kelley was drawing the book back in the '90s.
BATMAN #35 is yet another triumph by Team Snyder/Capullo. It's big. It's loud. It's colorful. It's crazy. Its creators have lost their minds. Let's hope they never find them. - John Bierly
GRADE: A+
John Bierly still can't believe he
gets to write for BOF.
Check out JOHNBIERLY.COM to read about the other things he writes about.


comments powered by