BATMAN
#30 is absolute proof that writer Scott Snyder and artist Greg Capullo have lost their damn minds... and I hope they never find them!
The entire notion of "ZERO YEAR" is ridiculous, that Gotham had an entire POST-apocalyptic era that was PRE-New 52. And I love ridiculous, as long as it works, and this insanity continues to be aces. We quickly find out what happened to Bruce Wayne after last issue's catastrophic Bat-Stealth-Blimp crash, and it won't be anything you're expecting. Meanwhile, we catch up with Jim Gordon, who's 99 kinds of awesome as a scruffy, scrappy, bearded freedom fighter. Why? Because Gotham isn't remotely as it was the last time Bruce Wayne, or the audience, saw it, and Gordon's appearance really shows us just how wild and weird Gotham has become under the reign of The Riddler.
I was talking about this issue on the phone with BOF and Modern Myth Media compatriot Josh Costella the other night, and Josh said it's not only obvious why Greg Capullo is always talking on Twitter about his long hours at the drawing board but also apparent how much he's evolved over the course of these 30 issues. I've been in love with his pencils on this book since issue 1; his Batman is brawny and cartoony without being cartoonish. Issue 6, with its rotating pages and nightmare imagery became an instant classic, and I truly believe this issue will, too.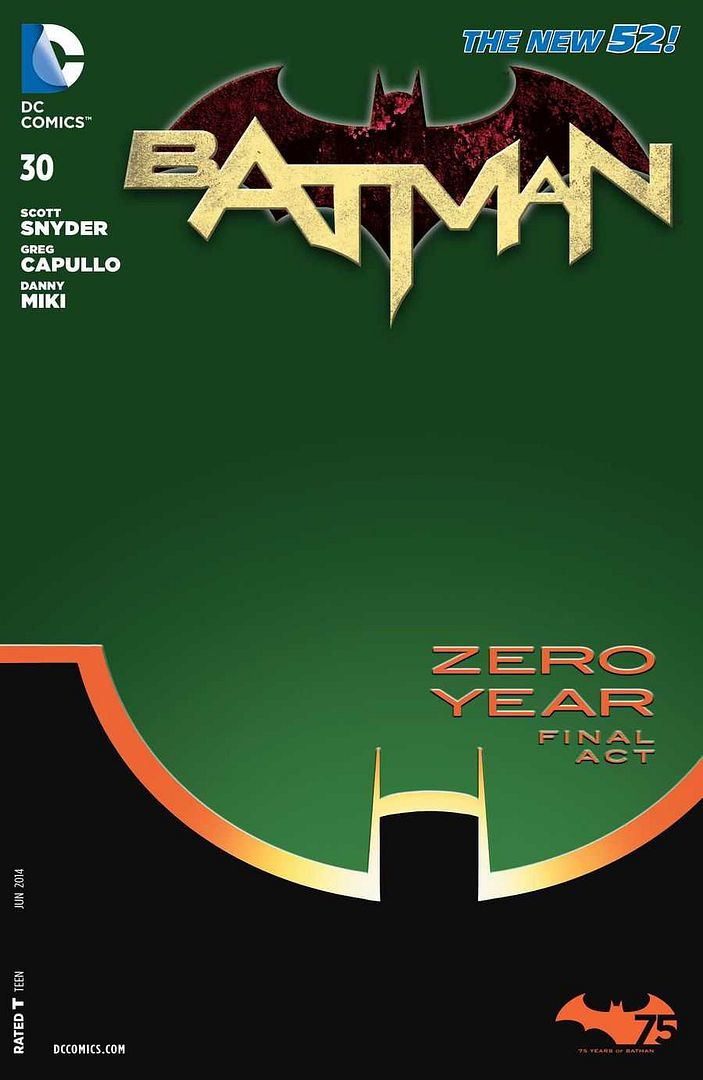 BATMAN #30 Cover by Gregg Capullo
Because the amount of detail Capullo renders here is staggering, with Danny Miki's inks defining the lines as boldly or as delicately as they demand. And then FCO Plascencia bathes it all in a garish glow that's equally ghoulish and gaudy. This is truly a landmark of artistry from all three men, and I love how something so colorful and inviting can look and feel so very, very wrong. Thus is the nature of Edward Nygma's Gotham, which looks like an amusement park on the outside but appears crumbling and broken below. And when we navigate those darker corners with Jim Gordon, FCO adjusts the colors to appropriately reflect the true nature of The Riddler's rule at street level (and, in one harrowing scene, on the rooftops, too). You'll seriously want to stare at these pages for hours because of what Capullo and his team have accomplished here.
"ZERO YEAR" is outrageous, building a new Batman origin that retains all the classic elements while simultaneously telling one of the most original and insane stories we've seen for a very long time. The character moments compel, the action wows, and it all feels new and exciting. All hail Scott and Greg, the true kings of Gotham City. - John Bierly
GRADE: A+
John Bierly still can't believe he
gets to write for BOF.
Check out JOHNBIERLY.COM to read about the other things he writes about.


comments powered by