REVIEW: BATMAN (Vol. 3) #2
AUTHOR: John Bierly (Follow @JOHNBIERLY)
DATE: July 7, 2016

SYNOPSIS: "I AM GOTHAM" Chapter Two.
In issue #2, after a brush with disaster, Batman struggles to reconcile the fate he could be leaving behind for his city, and reaches out to the idealistic new hero, Gotham. But an evil is building that may overcome both Batman and his new ally.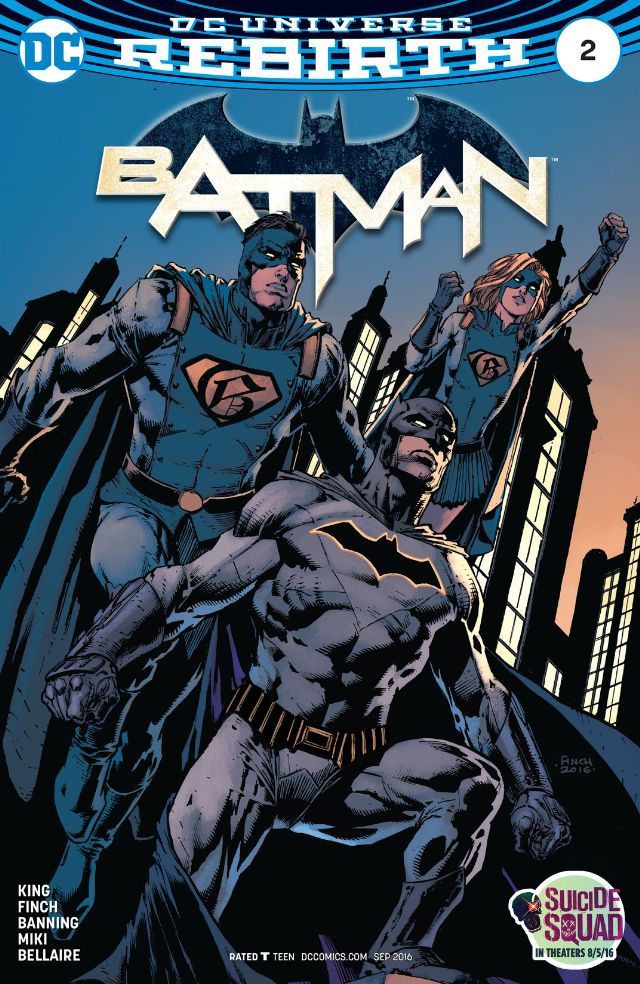 The emotional and action-packed BATMAN #1 was a pretty big hit here at BOF. Writer Tom King's inaugural Batman story successfully expands on elements he introduced in issue 1, reaches back to Batman's earliest days as a comic-book hero, and roots Gotham City into the larger DC Rebirth Universe.
Rather than picking up immediately where issue 1 left off, we're dropped into a battle between a classic Batman rogue and new super-powered heroes Gotham and Gotham Girl. Can they contain him on their own? Yes…eventually. But it isn't fast enough for Batman, who sees all the angles, shows them how a fraction of a second can mean disaster, and urges them to do better.
While Alfred reacts dryly to Bruce's Batcave musings about Batman's effectiveness (and even immortality) in the face of new super heroes on the scene, Jim Gordon gets a strange visit that prompts a rooftop meeting to which Batman brings along Gotham and Gotham Girl. Unlike certain iterations of Batman who would have warned the new heroes out of his city, this Caped Crusader wants them to see the bolts, nuts, and guts of how heroics work in Gotham City.
Until, of course, he hears something that causes a major brow furrowing, culminating in a classic moment that reminds Gotham and Gotham Girl that all the fancy powers in the universe can't make you Batman. (Gordon, of course, is hilariously unperturbed. And surely Gordon's wondering about how much masks itch is a sarcastic reference to his recent stint with a cowl on his head and not meant to be sincere, right? And I'll never not be disappointed that Jim is smoking again; I'd have hoped his time as Batman would have inspired him to retain at least some of the healthy habits, but alas.)
And then there's another meeting, but talking about it would be telling. I do love how it sets a stage for lots of things I'm looking forward to seeing King, and the characters, tackle.
BATMAN #2 brings its mystery into focus with wit and charm, with Alfred's observations and a beautiful dance partner's reaction to Bruce's sudden departure from a Wayne Mansion fundraiser as highlights. And in the art department, David Finch scores big with interesting action angles (such as Batman's leap onto a moving train with the bay and city beyond) and facial expressions (most notably Alfred's, Gordon's, and the dance partner's), all ably assisted by inkers Matt Banning and Danny Miki and colorist Jordie Bellaire.
My prediction is that Gotham and Gotham Girl are about to find out the hard way what happens when you're not Batman but you try to tangle with his Rogues Gallery anyway. If the villain on this issue's first page gave them trouble, the bigger threat brewing by issue's end is not going to go well for anyone.
Bring it on! - John Bierly
GRADE: A
John Bierly still can't believe he
gets to write for BOF.
Check out JOHNBIERLY.COM to read about the other things he writes about.

comments powered by