With issue #28 of
BATMAN
, Scott Snyder takes a break from taking us back in time to Gotham's ZERO YEAR to slingshot us into the near future of the "New Gotham" our heroes and villains will inhabit in the weekly
BATMAN ETERNAL
series beginning April 9th. This "secret glimpse" delivers the goods with one magnificently mysterious tease after another.
Snyder's frequent collaborator James Tynion IV joins him on writing duties, with pencils and inks by one of my all-time favorite art teams of Dustin Nguyen and Derek Fridolfs. These guys drew the landmark DETECTIVE issues (and later STREETS OF GOTHAM) by Paul Dini that were among the first comics I ever reviewed for BOF, and I'm always happy to see their names in the credits.
By now you've undoubtedly seen Nguyen's sketches going around of Snyder's creation Harper Row wearing a Nightwing costume. So... is Harper the new Nightwing? You'll actually find the answer in these pages, but that solitary reveal can't even begin to keep pace with all the exciting questions raised by this issue's events. As for the answer we did get, I kind of love it… …A LOT.
Meanwhile, how did a certain member of the Rogues gallery ascend to a certain position of power in the New Gotham underworld, and what happened between this person and Batman that made it happen? And if Harper Row has become what Harper Row has become, then who's the other choppy-haired female calling the shots in silhouette in The Batcave? Carrie Kelley perhaps? I have no idea. I can't wait to find out.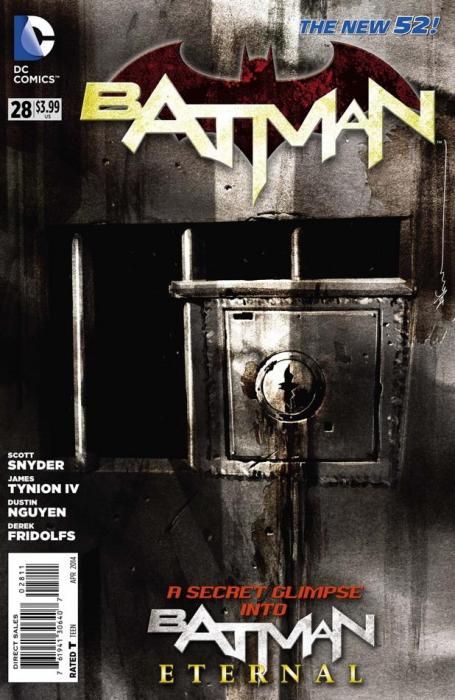 BATMAN #28 Cover
The script does a solid job of laying out the puzzle without feeling as if it's being manipulative in how it obscures the pieces. And as good as the writing is, the artwork alone is well worth your $3.99. Nguyen's pencils are handsome and unique, while colorist John Kalisz (another favorite) wows our eyes with bright primaries that pop against Fridolfs's inky blacks. The action is rendered with energy and clarity throughout.
But its Nguyen's depiction of a certain character he's drawn many times before that really got my blood pumping. She's never looked so classy, so sexy, so confident or so cool. The eyes! The hair! The clothes! I fell in love all over again.
No need to take my word for it – read this one fast, because there's a spoiler on the final page. Scott Snyder continues to lead us into new golden age for the character that brought us all to this website in the first place, and it just keeps getting better. - John Bierly