BATMAN
#27 zoomed me so high into Caped Crusader Heaven that I'm almost at a loss for new ways to say how beautiful and brilliant "ZERO YEAR!"
Things are looking bad for Batman at the beginning as Commissioner Loeb's S.W.A.T. team rains heavy firepower down upon our young Dark Knight. I love what this scene does for Loeb as a character; we know he's bad news, but at least we see some of the instincts that once got his name on the list to take the big job. With his tricks and tactics anticipated and intercepted at every turn, Batman has to use some ingenuity of his own to escape. And it still isn't enough... until he's rescued by a man he hates with unbridled vehemence.
Jim Gordon.
And so unfolds one of the best scenes I've ever read between two guys destined to share one of my favorite partnerships in fiction, with Snyder taking an inspired cue from my favorite moment from "NO MAN'S LAND." Once again, Gordon turns his back on an unmasked Batman. And once again, and not for the first time in this story arc, I know in my heart that Gordon knows.
By choosing to play it casual, however, Gordon shows great respect for The Batman while also taking the opportunity to give an apology and an explanation to Bruce Wayne that otherwise might never have happened between the two men face-to-face. The (mostly one-sided) conversation affirms my theory about why Gordon wears the coat "gifted" to him by a dirty partner, and Gordon brings us up to speed on why Bruce Wayne has shown him so much contempt in this storyline so far. (We also see Gordon fighting for his life in a flashback scene that makes the BATMAN: YEAR ONE beating he took from Flass and his flunkies look like a walk in the park.)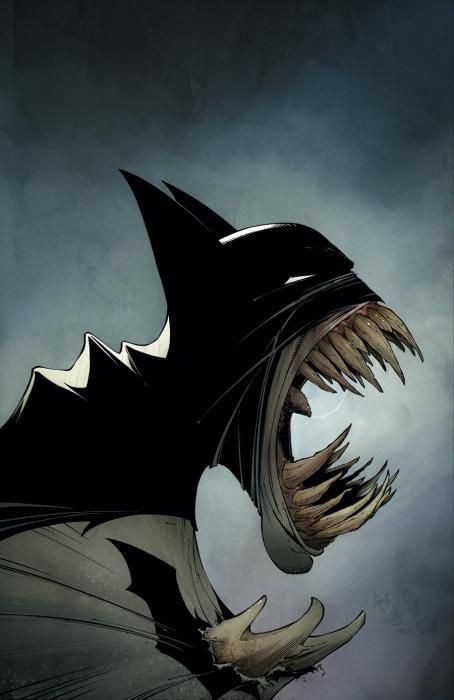 BATMAN #27 Cover
And just in case your heart wasn't already seasick, the next scene finds Bruce recovering in the cave with Alfred, who delivers his own stunning monologue about why he thinks Bruce has taken on the mantle of a demon of vengeance in yet another example of Snyder finding new emotional angles into classic relationships. Prepare to be shaken.
The art, as always, is every bit as strong. I'm still crestfallen that Capullo's take on Bruce's first Batsuit isn't his costume throughout all of the New 52; it combines space-age materials with the classic silhouette of Batman's first appearance from 1939 with no need for ridiculously heavy gloves and boots or needless lines like the New 52 design. It's even striking when drenched in blackness in a panel inspired by Frank Miller. Capullo deftly translates the desperate action of the opening sequence and the complex emotions of the lengthy dialogues delivered by Gordon and Alfred with equal ease. Colorist FCO gives every color on the planet an opportunity to take part in this story, with inker Danny Miki precisely providing the lines that bring the pencils and the colors together.
The issue winds down by winding up with Snyder's continued reinvention of a classic rogue who's been in desperate need of reinvigorating. Whereas Ra's Al Ghul uses the word "Detective" as a sign of respect, this guy bites it out of the air with snark and spite. And once again, we're left desperately awaiting the arrival of the next chapter. Thanks to fresh takes on the actions and emotions that define Batman and his friends and enemies, Snyder and Capullo keep capably proving that everything old can truly be new again. - John Bierly
GRADE: A+
John Bierly still can't believe he
gets to write for BOF.
Check out JOHNBIERLY.COM to read about the other things he writes about.



comments powered by