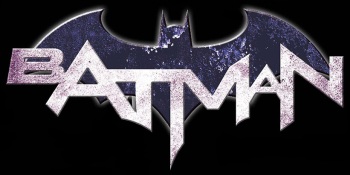 BATMAN
#26 continues to kick me into orbit as
ZERO YEAR
rolls on. Writer Scott Snyder and the art team commanded by the mighty Greg Capullo just keep wrestling away any remaining notions that Batman doesn't need another origin story by turning the oft-told tale on its pointy ears in all the right ways.
While we get a satisfying resolution to Lucius Fox's shocking actions from last issue's finale and more depraved deeds from Doctor Death, the real kicker here is the relationship between Bruce Wayne and Jim Gordon. Bruce can't stand him, and we get some major hints about why; and one of those hints lives inside a cornerstone of the classic Gordon wardrobe.
I have a feeling that Gordon keeps the contested item as a reminder of what he could have become had he chosen another path, and I can't wait until Bruce figures that out and discovers that Gordon is on his side. (That's my guess, at least…but I've been wrong before!) It's the only part of this story that makes me nervous. I don't mind Bruce's antagonism toward Gordon because I know it will be resolved, but I hope Snyder doesn't try to connect too many dots between them to get there. Christopher Nolan and David Goyer hit the right balance in BATMAN BEGINS by gracefully weaving Gordon into Bruce's origin without going overboard, and this issue's events are easing my mind about how it might play out in ZERO YEAR.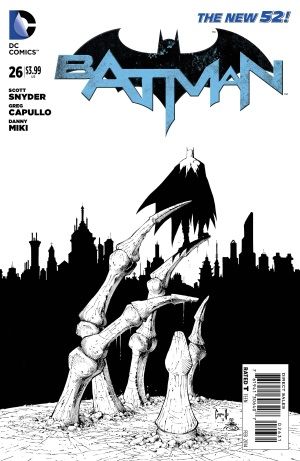 BATMAN #26 Cover
But regardless of how it turns out, the hospital scene is an absolute showstopper! Gordon's reaction tells us that he understands Bruce's hatred of him – and possibly even thinks he deserves it. I can't wait to find out more of the history between them; these are two of my absolute favorite characters in comics, and I love any story that finds fresh ways to show us why this team is so solid once it gets all the initial issues ironed out.
More mysteries about Bruce's past are presented, and we end on another classic Snyder cliffhanger that sits even more ominously in the air without the usual backup story to rein in the reader's futile gasps from having to wait for the next part.
The brawny art is cartoony without being cartoonish, with Capullo excelling as always at selling emotion as convincingly as action. You really feel that Bruce could snap Gordon in half if he chose to; Gordon's posture is particularly well rendered throughout the issue, from his panel from the past on the opening page to his encounter with an explosive Bruce later on. FCO Plascencia's colors range from subdued but magical hues in the flashbacks to bright, bold blasts framed to perfection by Danny Miki's precise inks.
We're seriously watching massive magic happen here, so PLEASE don't miss out! I'm just glad I called it here years ago on BOF when I declared Scott Snyder the future of Batman...BAM! - John Bierly