REVIEW: BATMAN (Vol. 3) #25
AUTHOR: John Bierly (Follow @JOHNBIERLY)
DATE: June 22, 2017

SYNOPSIS: "The War of Jokes and Riddles" part one! Don't miss this extra-sized anniversary issue! In his own words, Bruce Wayne narrates a harrowing, never-before-told story of the Dark Knight's greatest failure…and the horrors it unleashed! In the spirit of YEAR ONE and , prepare to see a side of Batman you've never seen before—get in on the ground floor of a classic Batman epic in the making!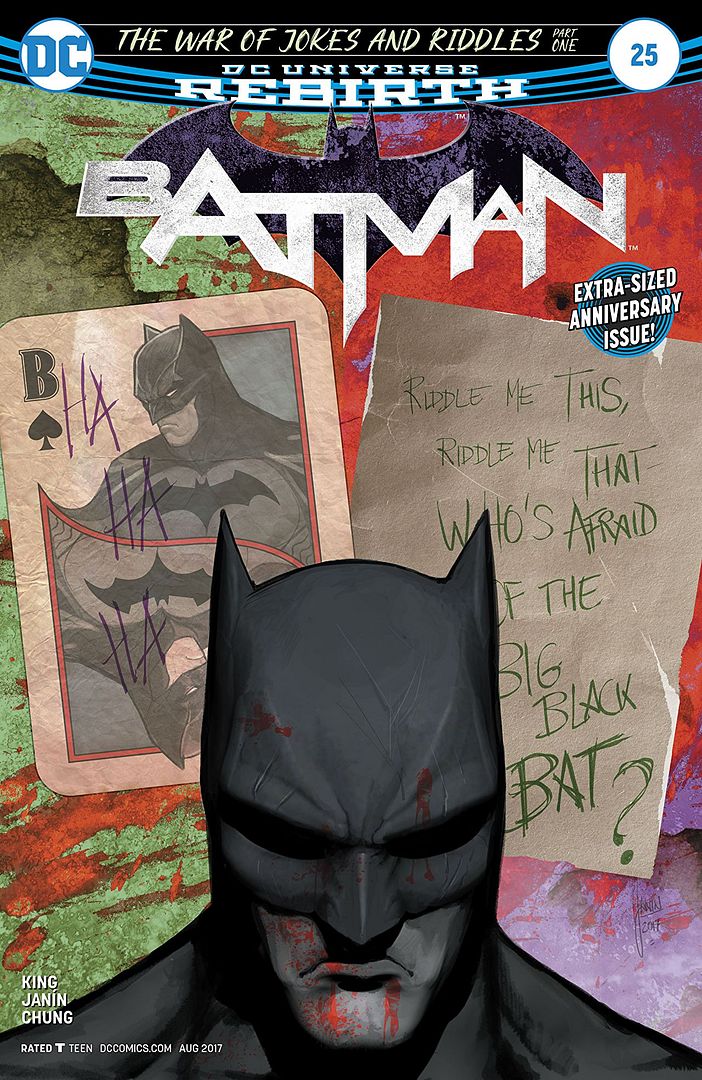 If you're hoping for an answer to the question that ended the already legendary BATMAN #24 (which is well on its way to its fourth printing), you won't get it in Tom King's BATMAN #25. Well, not directly, anyway. I actually think this issue answers the question definitively, and I'm curious to see how others interpret it. You'll see what I mean when you read it.
Rather than picking up where #24 left off, issue #25 takes us back in time to the first year of Batman's career, when The Riddler is in prison after the events of the brilliant ZERO YEAR (by Scott Snyder and Greg Capullo) from the previous volume. Certain cops are using Edward Nygma to help them figure out a pattern to The Joker's latest string of killings, which have been precipitated by The Clown Prince of Crime's inability to laugh. He's so bummed out about Batman that not even murder is funny anymore, but that doesn't mean he's going to stop committing it.
After using both brawn and brains to escape, Nygma approaches The Joker with a plan to take down Batman together. The meeting goes about as well as any meeting with the Joker would go, kicking off part one of the eight-issue "War of Jokes and Riddles", in which the Rogues will take sides as Batman tries to keep his city from being swallowed by this battle of bad guys.
I was taken aback by a certain act of physical violence in this issue, but many will enjoy the tougher take on this particular character. And what of King's take on the Joker? Many writers feel the need to go big, but King's glum take is a great way to approach an icon who can so easily be overdone.
And the art! Mikel Janín's guest appearances in these pages have always been highlights, and he continues to impress. His Irish prizefighter take on The Riddler feels original, and the facial expressions of his miserable Joker are delightful. The highlight is a full page that teases some of the villain battles we'll see in the next seven issues of this arc, with June Chung's handsome hues highlighting Janín's pencils and inky black inks. My favorite pages are the city outside of The Joker's office window and the final page, which bathes its subjects in a gorgeous marriage of warm and cool tones. This issue is mostly setup, but it effectively teases some spectacular insanity AND a secret that Batman has been keeping. What did he do during the War of Jokes and Riddles? I'm ready to have a lot of fun finding out. - John Bierly
GRADE: A
John Bierly still can't believe he
gets to write for BOF.
Check out JOHNBIERLY.COM to read about the other things he writes about.

comments powered by