BATMAN #24
Author: John Bierly (Follow @JOHNBIERLY)
October 10, 2013

SYNOPSIS: Zero Year Part Four! In this amazing, double-sized issue, Batman is on the trail of the Red Hood Gang and their mysterious leader, secret origins are revealed, and a major surprise will change the course of Zero Year and Batman's life! - DCCOMICS.COM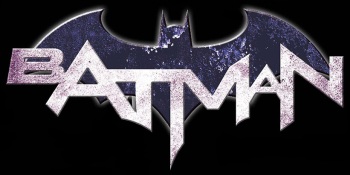 Who wants to pay seven dollars for a single issue of yet another Batman origin story?
This guy!
Hell, I'd have paid twenty for BATMAN #24 – it's that good.
As I've said since "Zero Year" began, this is the kind of origin tale that presents everything in such fresh, fun ways that you truly do feel you're reading something brand new. Writer Scott Snyder and artist Greg Capullo are unleashing an outrageously awesome Batman movie across every page, crafting a tale that's as emotional as it is inspirational as it is exciting.
This isn't just a big issue because it's 56 pages long. We see the first true appearance of Batman in the New 52 timeline, with Capullo designing a brand new costume that blends classic, modern, and futuristic elements, from the purple gloves (and familiar pose) ofDETECTIVE COMICS #27 (vol. 1) to a cowl with an awesomely dramatic mask to space-age materials and accents.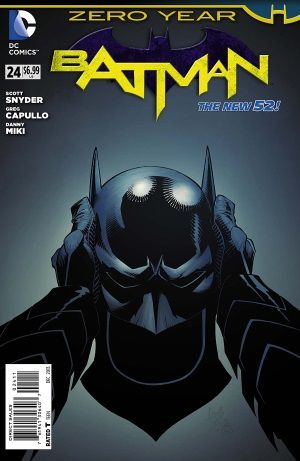 BATMAN #24 Cover
We've also never seen Bruce Wayne depicted with such clarity of heart, body, and mind. He instructs Alfred to buzz off all of his hair except a sleek shock of black bristle on top – like a soldier headed for war. But this Batman isn't all about fighting. He takes the battle straight to Gotham's citizens, publicly invoking everything that's good about his city and challenging his millions of neighbors to find their own inner heroes.
And against the Red Hood Gang, Gotham's going to need all the help it can get.
We've wondered for the while if the leader of the Red Hood Gang would turn out to be The Joker. It made sense. Or did it make so much sense that it was a red herring? Regardless of which side of the fence you were on, this issue does seem to definitively answer the question... or does it? Snyder keeps finding new ways to keep us questioning everything, challenging us to open our brains as The Batman would, to see every angle.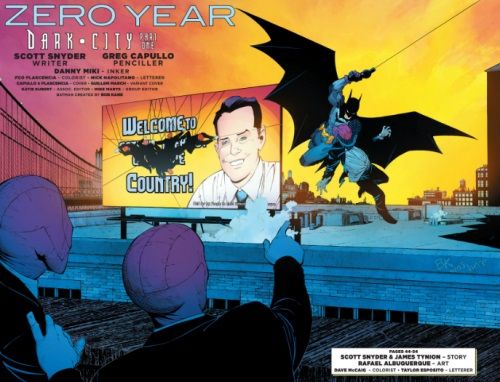 BATMAN #24's homage to DETECTIVE COMICS #27 (Volume 1) by Greg Capullo
And, as always, the amount of research on nearly every page is staggering, from how concrete works to how a camera trick can cement the portion of the Batman mythos that tells Gotham not who he is but who he isn't. There's heart and thought behind every word Snyder crafts, and Capullo brings so much brawny energy to the pencils that you often feel the action's going to explode right out of the page. Batman uses some really clever moves to take down enemies (including one involving a staircase and a makeshift human wrecking ball), and Capullo just rocks it in every panel.
The Uncle Philip storyline pays off, Gordon gets some good play, and the previously mentioned mystery of Red Hood One gets a chilling ending/beginning. And in the backup story (co-written by James Tynion with art by Rafael Albuquerque), we also find out what Eddie Nygma's been up to. (Hint: It isn't good.)
All this and we still haven't even seen The Batmobile yet!
I'm so in love with this issue. Just because we didn't ask for another origin story, it doesn't mean we're not getting the one we deserve.
Superb. - John Bierly
GRADE: A+
John Bierly still can't believe he
gets to write for BOF.
Check out JOHNBIERLY.COM to read about the other things he writes about.



comments powered by