BATMAN #23
Author: John Bierly (Follow @JOHNBIERLY)
August 16, 2013

SYNOPSIS: - DCCOMICS.COM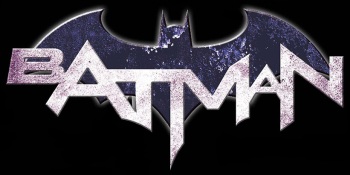 From Bob Kane and Bill Finger in 1939 to Christopher Nolan and Christian Bale in 2005, Batman's origin has been told many, many times in multiple manners and media. And for years, the Nolan/Bale version has been not only my favorite but also the last one I ever thought I'd need, giving us a Bruce Wayne who saw his parents' killer gunned down but still wanted to become a hero anyway, aiming not only to terrify criminals but also to inspire other good people to shed their own fears and make a stand.
And as much as longtime BOF readers know how much I love the writing of Scott Snyder, I was initially fatigued by the very thought of getting another origin story when "ZERO YEAR" was first announced. But three issues in, Snyder is giving Nolan a run for his money, which is especially impressive considering that Nolan literally banked The Billions for The Batman.
It boggles my mind how Snyder takes a story that's been around for 74 years and still finds new emotional angles and character bonds that no one's ever thought of yet. From the chilling way he ties in The Red Hood's beginnings to Bruce's to a scene where Alfred implies he might have been able to have saved Thomas and Martha had he been the one in charge of the operating table that fateful night, we're constantly given fresh takes that honor and reference previous origins while creating something entirely vital and new.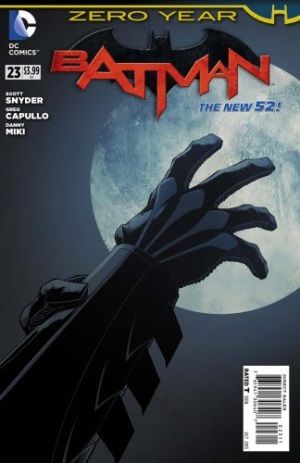 BATMAN #23 Cover
The Red Hood's speech to Bruce is seriously a show-stopper, and surely this guy is The Joker, right? If so, Snyder has found a genius way to explain how the same murder in Crime Alley created not only The Dark Knight but also The Clown Prince of Crime (and not in some silly "The Joker shot Thomas and Martha!" kind of way). It's so twisted, and it's so inspired.
Indeed, every word in issue #23 is crafted with ultimate emotion and intelligence, with Greg Capullo's art team creating stunning imagery that continues to excite us because we've simply never seen it this way before. From a stitched hand resting on an old friend's shoulder to a high-tech re-imagining of a seminal moment in Bruce's decision to become a bat, everything old is new again in the capable hands of this creative team.
Capullo's pencils, Danny Miki's inks, and FCO Plascencia's colors particularly converge on a panel where Bruce comes face to face with a bust of his father. Elsewhere, FCO's colors get an even wilder workout than usual, from the familiar hues that drench a chilling encounter with the Riddler to the warm moments between Bruce and Alfred to the bright, blood-soaked assault on Bruce by The Red Hood, all leading to an epic moment of bats in the belfry as you've never seen them before.
Also superb is the backup by Snyder and James Tynion IV with art by Snyder's AMERICAN VAMPIRE co-pilot Rafael Albuquerque, whose urgent pencils find perfect mood in Dave McCaig's colors. In another snapshot of Bruce's globetrotting road to becoming Batman, he teaches a crowd of brawlers that Batman doesn't kill not only because he doesn't want to, but because he doesn't have to. Like the main story preceding it, it's the best kind of awesome. - John Bierly
GRADE: A+
John Bierly still can't believe he
gets to write for BOF.
Check out JOHNBIERLY.COM to read about the other things he writes about.



comments powered by