BATMAN #23.1
Author: Bobby Barrett
September 6, 2013

SYNOPSIS: The Joker has FOREVER been the face of EVIL in the DC Universe…but what led him on this devious path of treachery? Andy Kubert pens this early adventure showcasing the maniacal exploits of The Crown Prince of Gotham -- The JOKER! - See more at DCCOMICS.COM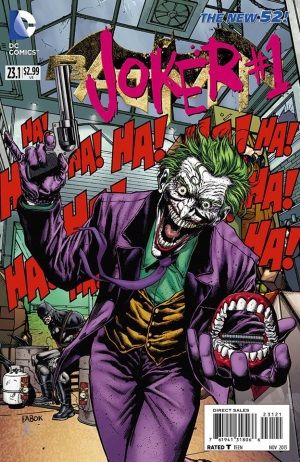 "Villains Month" has commenced!
What that means is that for the month of September, we will be taking a break from our regularly scheduled comics in the DCU, and getting up close and personal with some of the most vile, sick, twisted souls in the DC Universe.
When it comes to Batman in comics, what a better place to start than with a look at the "Ace of Knaves"..."The "Clown Prince of Crime"...The Joker himself, right?
This issue is scripted by Andy Kubert, whose brilliant art fans probably remember from BATMAN AND SON and WHATEVER HAPPENED TO THE CAPED CRUSADER? This is, however, the first time I've seen Kubert handle writing duties, so the pressure here is definitely on. The Joker has been somewhat of an enigma since The New 52 began, mostly lying low until his grand reveal in DEATH OF THE FAMILY, only to disappear once more. While during that story, Scott Snyder acknowledged many classic Batman/Joker tales as still being relevant, BATMAN #23.1 is the first time we're seeing an in-continuity flashback to his early days in purple.
The verdict? Nothing nearly as modern or edgy as the origin story Snyder is currently dishing out in his ZERO YEAR story.
This is essentially a tale of The Joker "adopting" a baby gorilla from the Gotham Zoo and training it to be his right-hand henchman. Not to say this isn't an idea that could have potential, but the narration coming from The Clown Prince himself is entirely too…sane. It's understandable for The Joker (or any villain) to feel utterly justified in the actions they take, but the way he explains himself just comes off as far too rational.
Throw in some sporadic flashbacks to The Joker's childhood being raised by a sadistic aunt, and we've got a full-blown sympathetic character on our hands…which just doesn't seem right. I'm definitely of the belief that The Joker is more frightening the less you know about him, and this issue really added nothing to benefit the fright factor.
On the other hand, over in Snyder's ZERO YEAR, we seem to getting the best of both worlds: it appears that The Joker's origin story is imminent, but the character is still just as mysterious (if not more so – we don't even get to see his face) and maniacal before his transformation. That's a Joker that works in The New 52, and it's a shame we didn't get to see a slightly progressed version of that here.
If anything, the story feels very Silver Age, and Andy Clarke's art simply matches the tone of Kubert's story, rather than try to bump up the intensity a notch.
All in all, I'm going to have to call BATMAN #23.1 a missed opportunity. Had Kubert drawn this issue instead, with a more experienced writer on board, we might have had something amazing on our hands. This is just the beginning though, and there's still lots more to come from "Villains Month".
Stay tuned! - Bobby Barrett
GRADE: D+



comments powered by