REVIEW: BATMAN (Vol. 3) #17
AUTHOR: John Bierly (Follow @JOHNBIERLY)
DATE: February 15, 2017

SYNOPSIS: "I Am Bane" Part 2! Barricading himself within the walls of Arkham Asylum still might not keep Batman and his allies safe from Bane's assault. Which one of Bruce's loved ones will be torn from him next?
Maybe I'm not as smart as I used to be (possibly), or maybe I was never smart at all (probably), but am I missing something between the ending of BATMAN #16 and the beginning of #17? The aftermath of 16's cliffhanger seems like a non sequitur to me. And 17's prologue is just as confusing given its later resolution: Did that guy get his guts blasted out, or did someone shoot him in the belly with a bunch of raw hamburger? (It looks like hamburger to me, but I'm on a diet, so everything looks like hamburger to me.)
Bane looms large over the issue's events and emotions, and that's part of my problem. He's large. I found the Venom-less Bane who lorded over a throne room of skulls in Santa Prisca to be infinitely more fascinating than the drugged-up, hulked-out heavy he's usually portrayed as, and I hoped to see that Bane come after Batman. Alas, we're already back to Big Bane. It lessens the character for me, because Bane's basically resigning himself to the fact that he can't do the job without Venom.
There's nothing wrong with part 2 of "I AM BANE," but it's not quite landing for me. I hope you love it, and there's certainly a lot to love -- a fantastic Alfred scene (at which writer Tom King has always excelled), a badass Gordon action beat, a major league guest star, and the return of some of Bane's old associates, to name but a few of its highlights.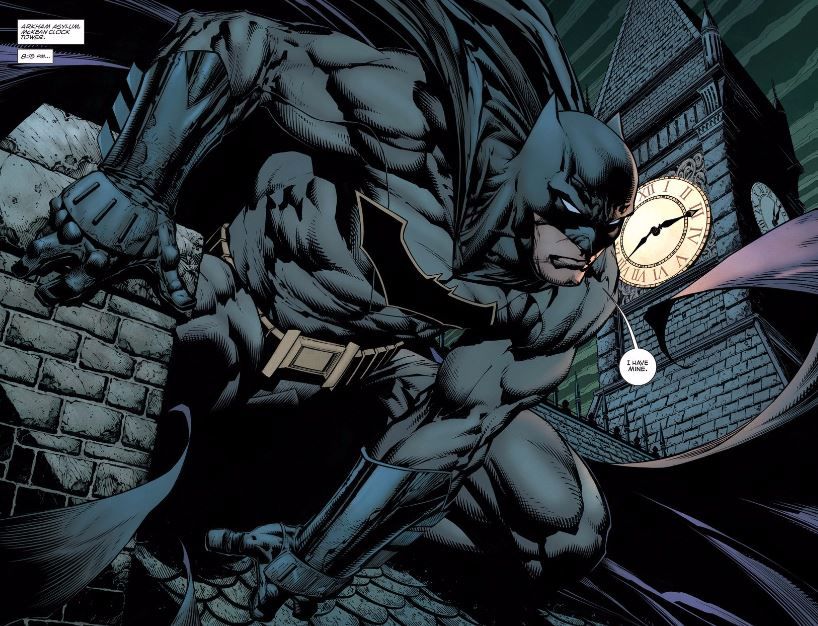 Colorist Jordie Bellaire and inker Danny Miki bring atmosphere and edge to David Finch's superbly detailed pencils, from bright arctic blasts to sterile cells to dangerous (and danger in) alleys. Bellaire's appropriate reliance on reds in the final pages is particularly striking, and a wicked Batman rooftop stance is destined for posters and T-shirts. - John Bierly
GRADE: A
John Bierly still can't believe he
gets to write for BOF.
Check out JOHNBIERLY.COM to read about the other things he writes about.

comments powered by