REVIEW: BATMAN (Vol. 3) #14
AUTHOR: John Bierly (Follow @JOHNBIERLY)
DATE: January 5, 2017

SYNOPSIS: "I AM SUICIDE" epilogue! Back in Gotham City, Batman and Catwoman confront their past and make a decision about their future that may change their city forever.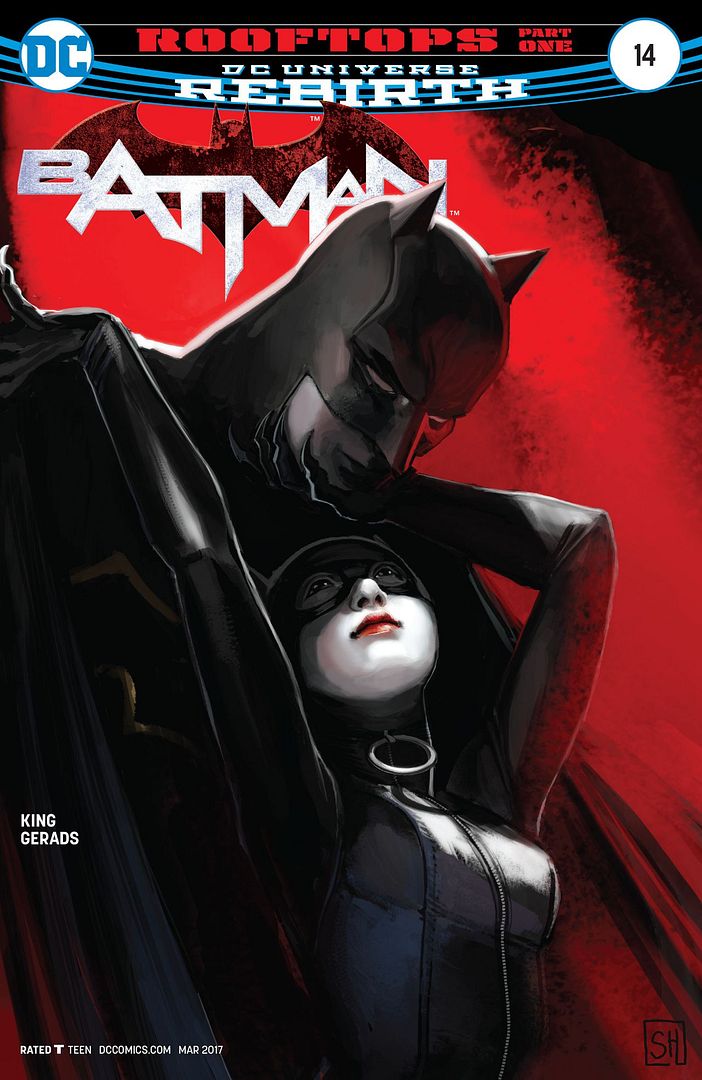 BATMAN #14 is the first issue of a two-part epilogue to writer Tom King's "I Am Suicide" arc, chronicling the last night Batman and Catwoman have together before he has to haul her back to Blackgate (after Amanda Waller keeps her promise to keep Selina out of Arkham) for that pesky matter of 237 murders that it's becoming increasingly obvious she didn't commit.
After the innocence and intimacy of Stephanie Hans's dark and dreamy cover to Tim Sale's and Brennan Wagner's decidedly more adult offering, we begin the story in a place these characters have found themselves many times before: on a rooftop, trying to decide where we go from here. Well, for Selina, at least, her fate is clear. The only question is, how long can she convince Bruce to delay the inevitable?
The answer plays out over the course of a night of fights with many of Batman's lesser known foes (and no, Jett, there's unfortunately no sign of your boy Crazy Quilt). I can hear an editor asking, "When has Batman ever left this many lunatics running around outside of Arkham at one time, and why are they all on the exact same rooftop over the course of one night?" But that's not really the point of the issue, and I got a kick out of the fairy-tale feel of the story. (The bad guys got lots of kicks, too. And not the fun kind.)
And while the true denouement won't happen until next issue, this one does have a splendid ending of its own. Artist Mitch Gerads is basically driving around to one ballpark after another, knocking a homer out of every one of them. Pencils, inks, colors, he does it all here, and all of it is beautiful. The energy. The intimacy. Blue tones punctuated by dramatic pops of red. Faces. Landscapes. It's a clinic on every aspect of comic book art.
I love Bruce and Selina together, and this issue marks one of my favorite interactions between them since that showstopper ballroom dance in RISES. There's a lot of "once you've done what you had to do, they'll never let you do what you want to do" in these pages, and I'm happy we're getting part two of this soon. - John Bierly
GRADE: B
John Bierly still can't believe he
gets to write for BOF.
Check out JOHNBIERLY.COM to read about the other things he writes about.

comments powered by